Nothing beats checking out your design project on a one-to-one scale. If you're an iOS app designer, there is a simple new way to get your mockups directly onto your iPhone or iPod touch.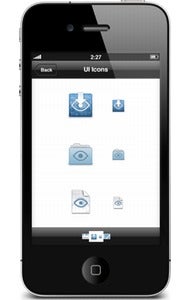 A collaboration between independent developer Kevin Kalle and Bohemian Coding has produced Review for iPhone, an app that, when paired with the Review Sync client for Mac, will transfer your app's design mockup from your Mac to the mobile device for—you guessed it—review.
While XCode's Interface Builder lets you see your design in a simulated environment on your Mac, Bohemian Coding and Kalle clearly believe there is little substitution for the real thing. Some DIY solutions that Review is designed to obsolete including sending a mockup from Interface Builder to iPhoto, then and sync it via iTunes. File management apps can also help developers check their mockups on a device, but these workarounds aren't very practical, and neither are what you can call immediate.
With Review and Review Sync, you can also send your mockups over Wi-Fi from Adobe Photoshop directly to your device via keyboard shortcut. Alternatively, you can drag a collection of images from the Finder to the Review Sync menu item and it will handle the transfer.
Review is available on the App Store for the introductory price of $3 and requires iOS 4 on iPhone or iPod touch. Review Sync can be downloaded from Bohemian Coding's website.