If you're looking for some all-encompassing iOS device charging options, XtremeMac's updated InCharge line should have something for you.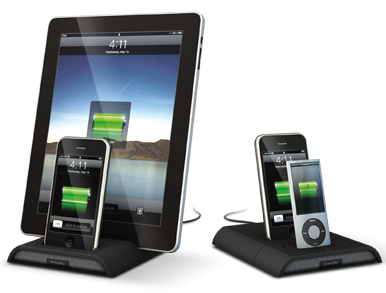 Headlining the updates is the InCharge Duo for iPad, a dual-device charging station that uses Apple's latest power standard (2.1 amps), and thus will support charging almost any combination of iPhones, iPads, and iPods (though you may need an adapter for your Shuffle) from a home AC outlet. The base of the charger is small enough to keep your desk free of lumbering objects, and a wide variety of adapters allow the device to snugly power up anything from an iPod Classic to an iPad. Meanwhile, a set of bi-color LED lights towards the front of the charger will keep you informed as to your devices' battery status.
Also newly available are XtremeMac's InCharge Auto for iPad and InCharge Home for iPad, which provide charging in the car and out of a wall socket, respectively. The InCharge Auto safely charges one iPod, iPhone, or iPad while on the road; the InCharge Home is a low-key version of the InCharge Duo, offering two 30-pin-to-USB cable connectors for dock-less, dual-device charging at home.
The InCharge Duo for iPad is priced at $60, while the InCharge Auto and InCharge Home are $25 and $35, respectively. All new InCharge devices are currently available from XtremeMac's Website in addition to select retailers; the InCharge Duo will also be available from Apple stores later this month.