It's a beautiful summer day on the beach, and you're out for a lovely swim with your friends. The sun is shining, the water's warm—what could possibly go wrong? *Cue Jaws theme song* Anyone who's remotely familiar with this iconic two-note theme should know what happens next; let's just say it involves lots of sharp teeth and the ocean water turning a reddish hue.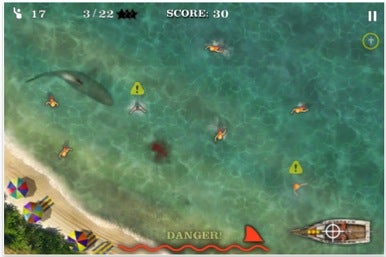 Jaws, everyone's favorite rampaging Great White from the 1975 classic film of the same name, is making its way to the iPhone in a new game, Jaws, released by Bytemark Games.
You play as local Police Chief Martin Brody; your job is to keep the waters of Amity Island safe. This is easier said than done, as Amity Island happens to be a popular vacation spot for scantily-clad college students, as well as a feeding ground for a certain three-ton shark that has a zest for human flesh. You must respond to distress calls around the island and rescue swimmers before they become shark food.
The game is played from a top down perspective of the beach and features "casual and intuitive" touch-based game play in which you touch, drag, and flick swimmers to beaches and boats before Jaws gets to them. The game includes ten increasingly challenging levels that culminate in a climactic battle with Jaws itself.
Perhaps best of all, Bytemark Games has licensed the Academy Award winning theme by John Williams, which should add considerable tension to the game.
Jaws costs $3 and runs on devices with iOS 3.0 or later.