It would appear that the squabble between People magazine and its staff of paparazzi over an iPad edition of the publication has been put to rest, for lo and behold, the People Magazine iPad edition is available now in the App Store.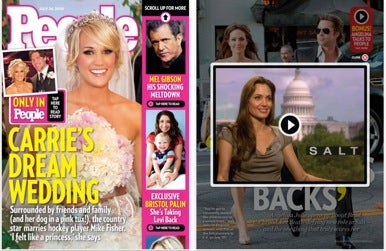 The free app will let you buy each week's special digital issue through iTunes for $4 each, and you can read and store as many issues as you'd like. If you're currently subscribed to the printed edition of People magazine, you can access the iPad edition for free.
Each weekly issue of People Magazine for iPad will include all the features of the printed edition along with extra pictures and photo galleries, special celebrity videos, movie trailers, TV previews, song samples, and instant breaking news updates on top stories throughout the week.
Earlier this week, we reported that the paparazzi working for People magazine were preventing the release of the iPad edition until their demands for better pay were met. We're not sure if the paparazzi got what they wanted, but celebrity-crazed iPad owners certainly did.
People Magazine for iPad runs on iOS 3.2 or later.