Among the major Internet services that tragically have lacked a native iPad app is Tumblr, a blogging service that William Porter liked in our Macworld review. Sure, there's a native Tumblr iPhone app, and Tumblr's Website is acceptable in Mobile Safari. But now there's Tumbleroo from Hanso Group, the first native iPad client that can satiate your Tumblr reading and blogging addiction.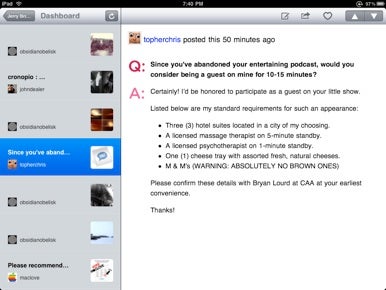 Tumbleroo lets you obsessively read and refresh catch up on the Tumblr blogs you follow in your Tumblr dashboard and create new posts. In landscape orientation, it mimics the interface of Mail and other standard iPad apps: dashboard posts appear with image thumbnails in a list in the left column, and tapping a post makes its full version appear in the main content area on the right. In portrait, a single post is displayed on the screen at a time, with the post list accessible under a popover in the upper left.
You can create a new Tumblr post of any type—Text, Photo, Quote, Link, Chat, Audio, or Video—reblog others's posts, "like" posts, pick whether to link each new post on Twitter, and even post-date your blog posts for scheduling later. Tumbleroo also supports accounts with multiple Tumblr blogs, so you can publish to any of them, not just the main blog you created when you signed up.
Hanso Group says on its blog that it's already working on the first major Tumbleroo update, which should add a few features and fixes. Among them are fixes for multi-blog support, viewing tags on posts, and the ability to upload photos from the iPad's Photos app and Camera Roll. (In version 1.0, you can only use image URLs, which isn't always convenient.)
Tumbleroo is available now in the App Store for $5 and requires iOS 3.2 or later.