If you've seen a match-the-tiles game, you know all there is to know about Game House's The Twilight Saga – Memory Quest. In fact, the connection between the game and the titular movie series is tenuous at best—the only tie-ins are several pictures of the movie's characters that appear in the background of its various levels.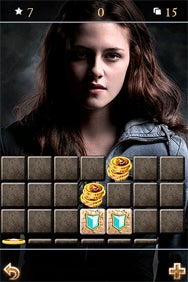 The goal of the Memory Quest is to flip a series of tiles and match two or more of the same kind. Each level comes with a different goal and unique set of difficulties: in some cases, you're racing against the clock, while in others you have to finish within a specific set of moves. In one kind of level, the board flips around by 180º, which is confusing and challenging the first time, only to become just an annoyance once the novelty wears off—something that, unfortunately, happens all too quickly.
With the exception of some minor variations, Memory Quest follows this pattern through and through. Fans of the series will appreciate the opportunity to admire their favorite characters—for everyone else, the App Store offers plenty of alternatives that cost less and provide more gameplay variety.
The Twilight Saga: Memory Quest requires an iPhone of iPod touch with iOS 3.0 or higher
[Frequent Macworld contributor Marco Tabini is a teenage vampire heartthrob.]