As we near back-to-school time, parents of high school and college kids are going to be asking just one question: "Do I get them a new MacBook, or new MacBook Pro?" Luckily for them, Apple has a new feature in its online store called "Compare Macs" to help make the decision a little bit easier.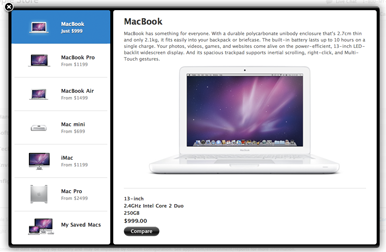 After you select a Mac from Apple's storefront, you'll see the compare option in the list of Mac models at the top of the page. Tapping or clicking on it will bring you to a new page, where you can choose from any of Apple's models to start your comparison. Initially, you'll see the computer's base configuration by default, but you can customize it—by adding extra RAM, a bigger hard drive, the right software, and so on—right within the tool in order to create your ideal Mac.
You can compare each computer's full technical specs, size and weight, software, and even its Environmental Status report—in case you want to know exactly how much aluminum is used to build each MacBook Pro.
The tool unfortunately limits you to looking at three Macs at a time, but you can save any configuration you're particularly passionate about for later deliberations (you'll just need to sign in with your Apple ID).
[via The Loop]