When Apple announces a new product, the company spares no expense to extol its new features and benefits. But when Apple releases minor updates, it can often be terse about the magnitude of their importance. Such is the case with this week's Snow Leopard Graphics Update 1.0.
Only three changes were listed for this update, among them one which "addresses frame rate issues occurring in Portal and Team Fortress 2 from Valve" on a number of recent Macs with graphics cards from ATI or Nvidia. Our Macworld lab ninjas should be able to go hands-on with testing next week, but a source at ATI reached out to explain just how significant of an update this is for Mac gaming.
In a nutshell, the relevant Macs can now see up to three times higher frame rates in games, and not just in Valve's titles. Tests from Bare Feats on an 8-core, 2.93GHz Mac Pro with an ATI Radeon HD 4870 saw frame rate boosts of anywhere from 10 to 37 percent in games like World of Warcraft, Call of Duty 4, and Doom 3 (all running at 2560 by 1600 with high quality settings). A 2009 iMac Core i7 saw Portal's frame rate double to nearly 60 fps, and the older a machine is, the greater its potential performance gains.
The screenshot below from Flickr user Andrew Durdin (used with permission) illustrates Portal performance improvements by comparing them between Windows 7 and Mac OS X before and after the Snow Leopard Graphics Update. Durdin saw frame rates either double or triple while running Portal at 2560 by 1440 resolution with high quality settings on a 27-inch 2.66GHz quad-core Core i5 iMac with a 512MB ATI Radeon HD 4850. The resulting frame rates are much, much closer to performance parity with the Windows version, and well within respectable, playable thresholds.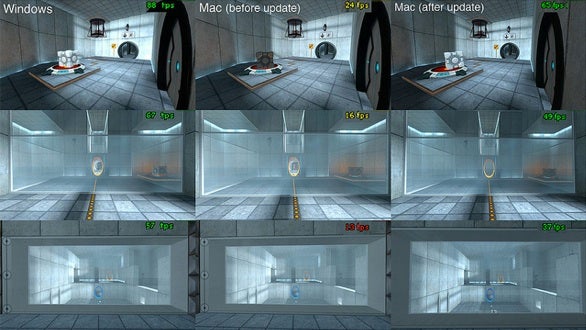 As it turns out, the new graphics drivers in these updates—co-developed by Apple and ATI—were more about "enabling unimplemented optimizations" than fixing bugs. Valve came to ATI with a pre-production Mac version of Steam and the company's games about six to eight months ago, and ATI spent most of that time ensuring that the game's engines and graphics would look right when running on a Mac. It was only after Steam for Mac shipped to the public in May that these unimplemented optimizations were bumped up the to-do list. It took two engineers working mostly full time for two months to finish ATI's portions of this graphics update.
Despite all this good news for Mac gaming performance and Steam's arrival earlier this year, it's probably still a little early to tell when, or if, gaming will explode on the Mac. Game development pipelines are extremely long these days, often taking a couple years or more. So for many developers, titles in development for this year or next have already passed the point at which adding a Mac version was feasible. Other factors play into the Mac's adoption as well; for example, Apple doesn't make a Mac with an upgradeable video card besides the $2500 Mac Pro, a machine far more expensive than even a hardcore gamer is likely to have on a wish list.
That said, Valve is just the kind of influential game company to spearhead this kind of a push. Its announcement that it would share Mac OS X graphics code—"the real hard work in making a Mac version" of a game, according to Valve Business Development Director Jason Holtman—with third-party Steam game developers probably turned some important heads. One week after Steam's debut, Mac games already made up 11 percent of Steam purchases, and some of Valve's recent popular series hadn't even been released then (the Left 4 Dead franchise, for example, still has yet to bring the zombie apocalypse to the Mac). Finally, Portal 2, the highly anticipated sequel to the surprise break-out shooter/puzzler hybrid, will mark Valve's first foray into simultaneously releasing a title for Mac and Windows computers when it debuts in February 2011. That's territory into which only a few major game companies— Blizzard, for example—have previously ventured.
With these developments in mind, and considering the massive gains of this graphics performance update, the Mac's gaming future looks pretty bright. I don't think anyone besides the most zealous of your gaming friends could blame you for getting your shades ready.