A new Apple support article describes a possible problem with messages received in the Mail app on an iPhone or iPod touch running iOS 4. What happens is that an email is listed but its content is missing. All that remains is a brief non-helpful explanation: "This message has no content."
Apple offers a simple fix for this symptom: Quit the Mail app from the multitask bar.
Click the Home button to exit the Mail app.
Double-click the Home button to bring up the multitask bar listing currently "open" apps.
Locate the Mail app icon in the multitask bar. Tap and hold the icon until the red minus sign appears.
Tap the red minus. The Mail icon will vanish. You have now completely quit the Mail app.
Double-click the Home button to exit the multitask bar. When you next launch Mail, the missing message text should appear.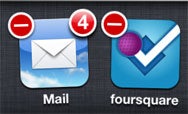 I would occasionally see a similar email symptom prior to the release of iOS 4. It happened most often when I tried to open a listed email that had been previously deleted from the server (because I had deleted it on my Mac). The multitask-quit will not help in such cases. But it should do the trick in most other situations.
More generally, this multitask-quit is worth noting as a potential fix for almost any app-specific problem you have in iOS 4. Indeed, I have mentioned it before in Bugs & Fixes, in my article on " Seven iOS 4 troubleshooting tips." However, this is the first time I recall seeing the technique recommended in an Apple support article as a fix for a specific symptom.
In the title for today's column, I describe this tip as iOS 4's most useful troubleshooter. By this I mean that of all the troubleshooting fixes that are new to iOS 4 (as opposed to ones that also apply to older iOS versions), this is the one most likely to help most often. Even in a mix with all troubleshooting tips, this would be among the top tools in my toolbox. I have already used this fix to get out of several jams over the past few months, mainly involving third-party apps.
As Apple's tech note goes on to say, this procedure is not relevant for an iPhone 3G or an iPod touch (2nd generation), even if they're running iOS 4, because these devices do not support multitasking. The fix will also not apply to older iOS devices, as they cannot run any variation of iOS 4. For these devices, at least for the Mail bug, Apple's recommended work-around is to power off your device and restart it.