If you talk to enough creative people, you'll probably notice that most of them make a habit of recording their ideas as often as possible. Ideas have a funny way of fluttering about in your mind during moments of inspiration and then disappearing forever shortly after, so it's important to write them down as they occur.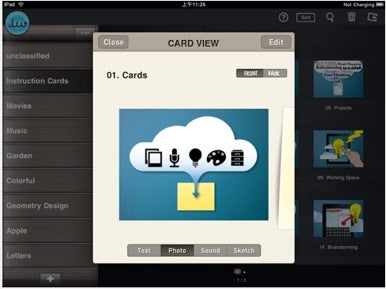 IdeaWallets, by Winzz, is an iPad app designed to help you capture and cultivate your ideas quickly and efficiently. You can jot down your ideas as they come to you with the app's Cards feature, then organize and refine your Cards with the app's Thinking Tools.
When a moment of inspiration hits you, you first go to IdeaWallet's Card Drawer. Create a new card and write down your basic idea; you can also add photos, make a voice recording, or draw a sketch as well. Cards are meant to include small bits of information, so you'll often end up with multiple cards to support one main idea.
When you're ready to develop your idea further, you can start a project, which is like a folder where you can arrange and organize your related cards and further refine your idea with IdeaWallets's Thinking Tools.
The Thinking Tools consist of an XY Axis, which helps you sort the basic values of your idea and establish relevant connections between them. Free Thinking, for example, lets you connect and arrange different cards in a more abstract, freeform way. Another Thinking Tool, Brainstorming, uses a countdown timer to help pressure you into mashing out new ideas quickly.
With IdeaWallet's creativity enhancing features, you'll hopefully have the tools to turn brief moments of inspiration into something more. At the very least, you'll no longer have an excuse not to make note of your ideas.
IdeaWallets is available now in the App Store for $6 and runs on iOS 3.2 or later.