If you enjoy disturbing ancient burial sites, mummy attacks by torchlight, and just the right amount of references to classic adventure films, then Shadow Edge is the game for you. This top-down, $2 shoot-em-up game from Pastel Games approaches the quality and playability of Alive 4-Ever (the game fellow Macworld reviewer Tim Mercer calls the gold standard of survival-horror mobile games). Graphically, this swashbuckling adventure shooter is a pleasure to hold and a worthy addition to your iPhone or iPod Touch.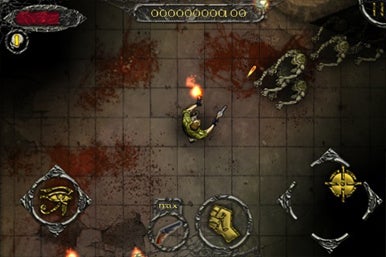 Shadow Edge opens with a stylized, comic book-esque montage that places you in the midst of World War II and the perilous fight against the Germans. You play as John Willis (-cough- Indiana Jones), have been tasked by the US Defense Department with locating a MacGuffin-type artifact that will help restore world order and bring glory to the Allied cause.
Unfortunately for our hero, there are waves upon waves of blood-thirsty undead and other unmentionables that will make your passage through the dark catacombs of Egyptian pyramids a gruesome affair. Fear not, for you will have an impressive arsenal of weapons, from shotguns to crossbows, to aid in your quest.
The game's animation and graphics look terrific and, especially at the outset, appear to be a not-so-subtle homage to Mike Mignola's awesome comic book series, Hellboy. But the key to Shadow Edge's visual presentation (and what makes it distinctive) lies in its lighting scheme. Most of the levels are blanketed in darkness (mummies need their beauty rest), so you always have a torch in hand. Yet your torch only lights the immediate area around you, leaving most of the screen obscured by darkness, which, in turn, adds an urgency — and excitement — to the gameplay experience. The detail of the levels and its monsters is also impressive—as is the sound. I definitely recommend (as does Pastel Games) using headphones to get the surround-sound feel, especially if you like heavy metal.
The mechanics of Shadow Edge are similar to other games of this ilk, as you are given a top-down, 2-D view and a dual-stick control set-up, the left stick for movement and the right for aiming and shooting. There are also two onscreen buttons that allow you to change weapons or ignite the large torches that appear throughout the levels. The controls are smooth and easy to use, which adds greatly to the overall playability of the game. For fans of this genre, the graphics and controls may feel a little tired, but I think Shadow Edge has some staying power. Shadow Edge is very impressive visually—and with arena mode and adventure mode— has plenty of depth. So grab your torch and prepare for adventure, this survival shooter is definitely worthy of your time.
[Rip Empson is a frequent contributor to Macworld.]