Made by DarkWave Games and distributed by Chillingo, Master of Alchemy HD is a puzzle game for the iPad where you use various tools to change the properties of solids, liquids and gasses and make them do your bidding. Each of the sixty levels in the game starts with faucets dripping various substances in liquid or solid forms. Your goal on each level is to direct each of these elements to their respective targets using the various alchemical tools at your disposal.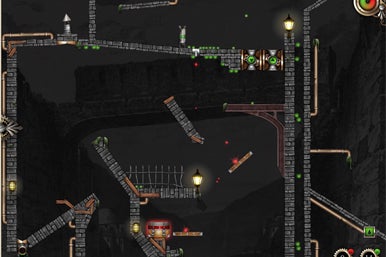 On their way to the targets, you must make these elements change forms, break through walls, escape through gaps and even collect some gems. The tools allow you to transform the elements to different states and change their paths.
Each target in the game only accepts an element of a certain color and in a certain form and only when all targets have been filled to capacity does the level end. While it all sounds very complicated, it's really easy to pick up the game and play the interactive tutorial to find your way around.
To make things more interesting, there are time challenges in each level that you have to meet to score extra points and the game also deducts them for wasting too much of a rare element or destroying the purity of a target by directing elements of a different color to it.
Not everything in the game is designed to make it harder, however, because various parts of the structure of the levels themselves help direct the flow of your elements towards their targets. There are also helpful arrows pointing you in the right direction.
The game starts off easy and includes a tutorial to get you going. I recommend that you not skip it, because it can be a little confusing otherwise. Each level is also preceded by a tip (applicable to that level), which is shown while the level loads.
The graphics and in-game sounds in Master of Alchemy HD are absolutely spectacular. The various pipes and bricks and chimneys in each level are designed with astonishing detail and the overall retro feel suits it perfectly. The background score works in tandem with the graphics to put you into the mood.
The physics engine is also very good, with the various elements interacting with parts of the level and with each other in a remarkably realistic manner. The way the solids just lightly crumble down once they reach a saturation point on a ledge and the way gas particles collide with each other is just a joy to watch!
The first ten levels of the game are ridiculously easy and I was expecting to take some points off the game due to that, but as I progressed to the more advanced levels, I found that they did gradually become more challenging. If anything, I now think that the later levels may be a little too challenging for casual players. Beating the golden time, at the very least, is not something every player will be able to achieve.
That does not detract from the fact, however, that Master of Alchemy HD is immensely fun to play and a delight for enthusiasts of puzzle-based games. The superb graphics, hyper realistic physics engine and challenging gameplay elevates it to the level of the very best games available on the App Store today.
[Frequent contributor Aayush Arya can be found on Twitter when he's not writing for Macworld.]
Note: When you purchase something after clicking links in our articles, we may earn a small commission. Read our affiliate link policy for more details.