If you've ever wanted to create your own animated drawing, Animation Creator HD from Red Software just might be what you're looking for. With this app, an iPad, and some patience, you've got all the tools you need to start animating.
Essentially, the workflow in Animation Creator HD matches what a traditional animator would use. You draw a frame, draw the next frame with your subject in a slightly different position and repeat. Play these frames back, and your subject appears to move. This can be quite a tedious process, but that's par for the course in hand-drawn animation.
Still, Animation Creator HD has a slew of tools to help you along and make things a bit easier. First, you can make your background just about any color you want by picking from the available color swatches, or by adjusting RBG color sliders. You can also use the same options to select your tool color.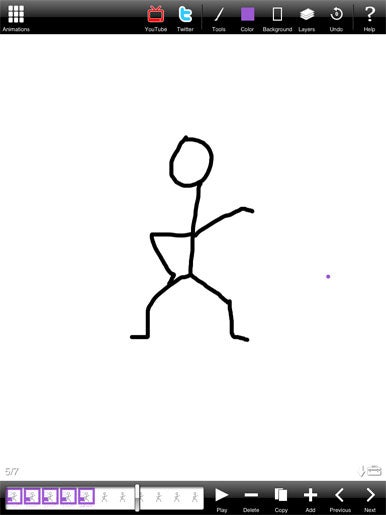 You've got a brush at your disposal in addition to eraser, line, square, and circle tools. You can choose the pixel size of each tool using a slider that ranges from one to 100 pixels. Each frame can have up to three layers, which is a nice bonus—a layer positioner tool allows you to move those layers around. Unfortunately, you can't scale or rotate a layer using this tool.
An undo button can correct any mistakes you make when drawing, but it only takes you back as many as three steps. For that reason, you won't want to get too far ahead of yourself during the drawing process.
Animation Creator HD supports "onion skinning" which allows you to see the last frame you created underneath the current frame. That makes it easier to create a more fluid animation.
The app also provides options for adding new frames, copying existing ones, and deleting frames. At any point you can play your animation back to check out how things look. You can adjust the playback frame rate using a slider.
Once you've finished your animation you can upload it to YouTube or post it on Twitter. Oddly enough, you can't store the finished product to your iPad's photo library. Hopefully a future update will include this and maybe a Facebook upload option as well.
Animation Creator HD is relatively easy to use, but the interface could stand to see some improvements. For instance, to change from the brush tool to the circle tool, you have to tap a little toolbox icon at the bottom of the screen, then tap the Layer Tools button, and then tap the circle tool. Each time you want to adjust any kind of tool or setting, all that tapping feels a bit cumbersome. It's not a deal-breaker by any means, but it does slow things down a bit, and reating hand-drawn animation is already tedious enough as it is.
iPhone users can try their hand at animation as well with the iPhone version of the app. Animation Creator has many of the same features as the iPad version. But it has a few tricks that haven't made it into Animation Creator HD yet—namely, you can upload animations to Facebook on the iPhone. The iPhone version also supports up to ten undo steps compared to Animation Creator HD's three. On the iPhone, you can also use the built-in camera to snap an image for the background or import a background from your photo library.
At $2 on both the iPad and iPhone, either version of Animation Creator offers a great way to try your hand at animation. Red Software also offers the opportunity to take the app out for a test drive with lite versions for both the iPhone and iPad that limit you to three animations and 15 frames per animation.
[Tim Mercer is a technology enthusiast, graphic designer, and blogger, whose blog, digital-artist-toolbox.com, offers free resources to the digital artist and graphic designer.]