ComicBookPad, the new comic book reader by Developica allows you to take control of your iPad's music library while you flip through your comics, creating a queue of songs to accompany your illustrated favorite stories.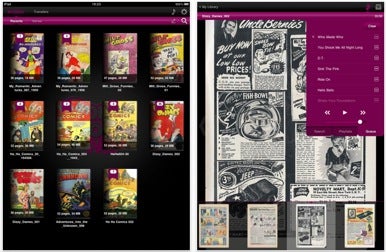 ComicBookPad is a full-featured comic book reader with real-time zoom, thumbnails of every page, a file library with stacks, no-lag page turning, and .cbr, .cbz, .rare, and .zip file import capability. You can flip through pages as quickly as you'd like, as well as randomly access any page using a page thumbnail display which is activated at the bottom of the screen.
What sets ComicBookPad apart from most other iPad comic readers is a built-in set of playback controls for your iPad's music library. You can play and pause music, skip forward and back in track listings, and even access playlists or search your library, all from right from inside the app.
The app functions in portrait or landscape orientation, but since only one page can be displayed at a time, you might want to stick with portrait mode. It also supports bookmarking, so you can pick up right from where you left off when you reopen the app.
ComicBookPad is available now in the App Store for $9 and runs on iOS 3.2 or later.
[Updated at 1:12PT to clarify the built-in music playback controls.]