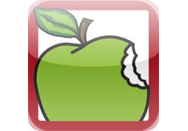 i-iTch on Monday unveiled ABC On The Go, an educational app developed by teachers, focused on preparing young kids to read.
ABC On The Go includes three games aimed at helping kids recognize letters and recall which sounds they make (the letters, not the kids). i-Itch says that the app's original, colorful illustrations, coupled with entertaining sound effects will "teach the sound-symbol relationship of each letter of the alphabet in a 21st century way."
Classic mode showcases each letter in a slideshow format, with simple voice prompts to move through the alphabet. Hear It Hit It—beyond sounding like a good strategy for blind boxers—tasks kids with determining which letter sounds they hear. And See It Say It uses visual and auditory cues to firm up the letter/sound relationships.
ABC On The Go costs $2, works with all iOS devices, and requires iOS 3.0 or later.