I-Play's MotoGP 2010 is an adrenaline-fueled, easy-to-play motorcycle racing game for the iPhone and iPod Touch. While it's great arcade fun, those looking to get the experience of real life MotoGP Motorcycle racing—with its pit crews, slipstreams and wheelies—will be disappointed. The game is hardly a simulator—more of a classic arcade style racing game—but with its accessible controls and relatively challenging races, it's an enjoyable ride.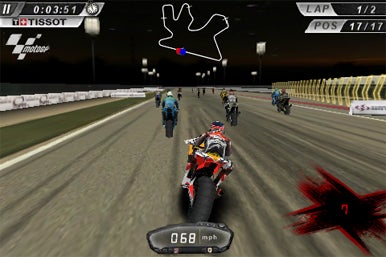 MotoGP follows a basic formula. You can choose from a variety of tracks to race on, including the Gran Premio d'Italia Tim, the Air Asia British Grand Prix and the Tim TT Assen. You can choose to play as any number or real life MotoGp Riders, such as Ben Spies, Dani Pedrosa, Casey Stoner and Hiroshi Aoyama. (I was partial to Hiroshi Aoyama.) All the riders differ in ability and these stats actually do have bearing on how well you'll do in a race. If a rider is bad at braking, good luck making curves.
When you hit the track, the control interface is intuitive. While your motorcycle rider hits the gas automatically, you are responsible for steering, braking, backing-up and boosting. The entire iPhone acts as your rider's steering wheel, and you simply move it left or right to make your rider go in the direction you want to go. To boost—which makes your rider go faster for a limited amount of time—you touch the right side of your screen. To brake and to back up, you touch the left side of the screen. Don't hold your finger on the boost for very long or else you will get a "boost overload," which will take away the boost option for ten seconds. If you slam down on the brakes, which is caused by holding the left side of the screen too long, you can perform the game's only rider trick, a "stoppie," which is when a rider makes his back tire go up slightly. The controls are not complicated and they don't take long to get adjusted to.
The game allows you two racing modes to test your abilities—Quick Race and Championship mode. In Quick Race, you can play a single race for as many laps as you choose. You can play all the game's riders. You can choose your rider's professional level (Rookie, Professional, or Legend) to determine the difficulty of the race you'll play. You also have access to all the game's tracks. (Note: you do have to sign up for I-Play's newsletter to get access to all the game's tracks in Quickplay.) Though there are only minor differences in the difficulty between Professional and Rookie races in Quickplay, the mode overall is highly enjoyable and challenging and lets you really get your feet wet in the game.
Championship Mode is different. When you first start in the mode, the game will select the tracks you'll play, will give you the option to play only a select number of so-so riders, and it will select your skill level as rider. You have to play entire seasons of motorcycle races (seasons are 18 races in all) in hopes of unlocking new levels, riders and professional settings to choose to race with. You unlock better gameplay options by winning the most races in a season.
Overall, racetracks are relatively interactive, in that when you run over dirt, dust flies, and if you run over grass or go off track, it does affect your driving performance. Though tracks are not unpleasant to look at, the game could take better use of the iPhone's graphic abilities. That said, the riders' features do seem well detailed and that is ultimately important, as that's what you see most of the time on screen. You do have the ability to change your camera perspective and just watch the track as you play, but I don't recommend it.
I found no problems with the game's sound quality. Hearing racing noises for long periods of time can get annoying, so you might be wise to add music from your iTune's library to the races. Adding music is not difficult, and the option can be found in the game's menu.
MotoGP is by no means a simulator, but player abilities can affect your races, and the tracks are interactive enough for enjoyability. Though your game entertainment really depends on what racing mode you pick, overall MotoGP is a fine addition to iPhone's racing library.
[Sam Felsing is an editorial intern for Macworld.]