With more and more people browsing the Web on mobile platforms, it's crucial that Web designers know how their sites look under different screen resolutions. Resize is a simple, $5 Safari Extension that lets you quickly see what a Website will look like when sized to fit a smaller screen.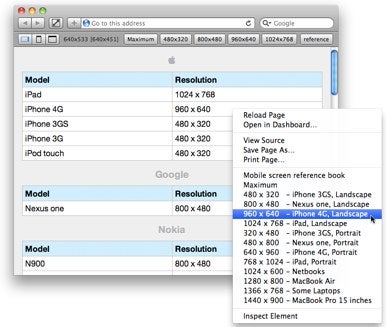 The extension includes preset resolutions for common smartphones, like the iPhone 4, iPhone 3GS, and Nexus One, as well as common laptop and netbook resolutions. Each preset is customizable and you can also add your own.
When you select a preset, Safari's width and height are resized to the selected resolution, giving you insight as to how mobile browsers will view your site. You can also manually resize your browser—just click and drag the right-bottom of your Safari window, and Resize will display its current size in real-time.
If Resize doesn't already have a preset for a certain device's resolution you'd like to test, you can search for it in Resize's built-in mobile screen reference book, which gives you quick access to the screen resolution of popular devices by Apple, Google, Nokia, Motorola, and more.
Resize requires Safari 5 running on Mac OS X.