The oddly-punctuated Text'nDrive Pro, a $10 iPhone and iPod touch app from HandsFree Software that reads you your e-mail with a synthesized voice, tries awfully hard to be genuinely useful. It falls short of succeeding.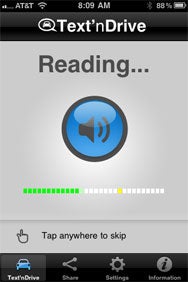 Despite its name, Text'nDrive isn't actually built for texting, though the developer promises that support for SMS messaging is coming soon. In its current incarnation, the app is focused solely on helping you navigate your e-mail without looking at your iPhone to do it.
To work its magic, Text'nDrive requires that you provide your e-mail address and password for each account that you want to use. By necessity, the app must have complete read access to your e-mail. I found that Text'nDrive connected flawlessly to my Gmail account, a Google Apps account, and a generic POP account as well.
While the software is running, it will announce any e-mails you receive. Note, though, that Text'nDrive may only alert you to your new e-mails a few minutes after they truly arrive in your inbox; I found that the software continually displayed a short lag-time when comparing side by side with my regular e-mail client. Worse, I intermittently ran into issues where new e-mails were simply not picked up by the app at all or where some new messages were announced, but others that arrived around the same time were ignored.
When the app does find new e-mail messages, it's able to read them aloud to you. The voice sounds fine and is fairly understandable, though it could respect punctuation a bit better—particularly by giving a bit more of a pause and employing the proper intonation at the ends of sentences.
After the app reads you a message, you can choose to dictate a reply, either with a voice command ("reply to the message"), or by tapping anywhere on the screen. Unfortunately, however, Text'NDrive doesn't actually transcribe your speech like Dragon Dictation does; it simply e-mails your response as an audio attachment, with the e-mail body serving mostly as promotion for the app itself. I don't know about your contacts, but I know that when mine are expecting an e-mailed response, an MP3 isn't what they're after.
That's Text'NDrive's core functionality. I could write just as much about the features it lacks, like the aforementioned transcription technology. One major oversight is its lack of any push or background technology: If you want the app to keep checking for (and announcing and reading) your e-mail, you need to leave it running—without letting your iPhone lock. If you make a phone call and forget to relaunch Text'NDrive—or can't take your eyes off the road long enough to tap on the app's icon—it's mute. I'm also an e-mail triage artist; I'd prefer that the app first read the subject lines and senders of the e-mails I've received and then let me navigate via blind taps or voice commands to choose which messages it should read in full. One additional important note: The app doesn't work with some Exchange servers (specifically, ones that haven't enabled IMAP e-mail as an option).
On top of my complaints about the app's feature set, I'm a bit uneasy about giving a third-party service my username and password for my e-mail accounts. And I really don't love that Text'NDrive keeps the automated audio transcriptions of the e-mails I receive for unspecified amounts of time. An in-app disclaimer indicates that those transcriptions are deleted from the developer's servers on occasion, but I don't like that they're saved at all.
The free lite version of the app only reads the first 45 words of e-mails you receive, and doesn't include the reply-via-attachment feature at all.
If you need instant, immediate access to your e-mail even while you're driving, I suppose Text'NDrive is safer than staring at your iPhone's screen. But while I think it's a clever concept, I don't find that the app is genuinely useful; it feels more like a clever iPhone parlor trick than a hands-free savior.
[ Lex Friedman is a frequent contributor to Macworld.]