Apple's built-in automation tool, Automator (in /Applications), is capable of performing wondrous feats, yet far too many people ignore it—believing their work wouldn't benefit from automation or that Automator is too difficult to use. Neither is the case, as evidenced by these tips for the Snow Leopard version.
1. Access your media anywhere
If you spend much time with Apple's $79 iLife and iWork suite applications, you're probably accustomed to having your media close at hand via the Media Browser—a pane that displays the contents of your movie, photo, and iTunes libraries so you can more easily use these elements in projects. Yet when you want to access these files with a different application, you often have to open your Movies folder, iPhoto, or iTunes to do so because the pane is absent. It needn't be, as a collection of Automator services makes the Media Browser available anywhere.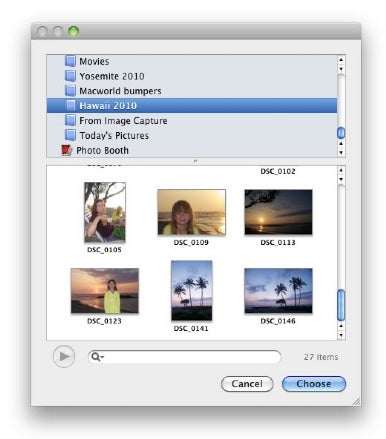 Travel to the Mac OS X Automation Website and download the Media Picker Services collection. When you install it, you'll discover that the Services menu—found in all your Snow Leopard applications under Application Name -> Services—includes three new entries: Browse iTunes Library, Browse Movie Library, and Browse Photo Library. Choose the most appropriate one based on your needs and a Media Browser window appears, containing your media. Just select the file you want and drag it into a document.
2. Listen to your documents
Snow Leopard includes another helpful Automator service that lets you take your documents with you in audio form. This is a great way for both those always on the move and those with visual impairments to access text documents. To invoke it, launch System Preferences, select Keyboard, click the Keyboard Shortcuts tab, and select Services in the window's first column. Scroll down to the Text heading and enable the Add To iTunes As A Spoken Track service. (If you like, select the service, press the Return key, and assign a keyboard shortcut to it.)
Now open a text document that you'd like to save as an audio file. Select all the text, choose Services from the application's menu (for example, BBEdit -> Services), and then invoke the Add To iTunes As A Spoken Track command. An Automator workflow kicks in that uses OS X's built-in text-to-speech feature to convert the text to audio and then saves the file to iTunes. You'll find it under the new Spoken Text playlist with the name Text To Speech.
3. Trigger workflows through iCal
When you launch Snow Leopard's Automator, the workflow sheet that appears contains a list of templates. One worth paying attention to is the iCal Alarm template. Using it, you can create helpful workflows that are triggered at a particular time and date.
For example, to automatically back up a Current Projects folder on your Desktop to another folder (one on another drive, for example), select the iCal Alarm template and then create a list of actions that includes Get Specific Finder Items, Get Folder Contents, and Copy Finder Items. (Click Files & Folders to reveal these items in the Actions column.) Drag your Current Projects folder to the Get Specified Finder Items action so Automator understands that it's the source folder. Leave Get Folder Contents as it is. And drag your destination folder, which we'll call Backup, to the Copy Finder Items action. If you click the Run button you'll see that any items you've placed in the Current Projects folder are copied to the Backup folder. (If you want old files with the same name to be replaced by newer files, enable the Replacing Existing Files option in the Copy Finder Items action.)
When you save the workflow you'll be prompted to name it. Do so, click Save, and iCal will open, with the Backup event's Edit window showing. Within this window you can create a repeating alarm—one that goes off once a day at 6 PM, for example—and copies the contents of the Current Projects folder to the Backup folder without you lifting a finger.
4. Opt for an automatic slideshow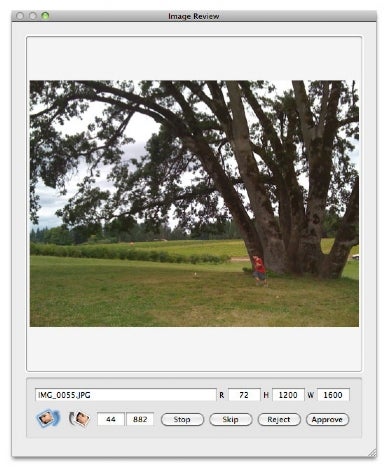 Automator also includes an Image Capture plugin that lets you do cool things. For example, in iPhoto create an album (File -> New Album) called Today's Pictures. Open Automator, create a new workflow, and in the template chooser select Image Capture Plugin. Click on the Photos item in the Library column and create a workflow that contains these steps: Review Photos, Import Files into iPhoto, Get Selected iPhoto Items, Play iPhoto Slideshow.
In the Import Files into iPhoto action, choose your Today's Pictures album as the destination for your pictures. And in the Get Selected iPhoto Items, choose Albums from the Get Selected pop-up menu (this causes the action to be named Get Selected iPhoto Albums). Save your workflow (File -> Save) with the name Review and Slideshow.
Now connect a camera to your Mac (this can be your iPhone). Open Image Capture (in /Applications) and from the Import To popup menu at the bottom of the screen choose your Review and Slideshow workflow. Select some images and click the Import button. An Image Review window will appear that displays the first image along with—among other things—Reject and Approve buttons. Click the appropriate button and continue to review your images. When you finish reviewing the images, iPhoto opens, adds the approved images to your Today's Pictures album, and then displays a slideshow of the images you approved.
5. Pull text from PDFs
If you've ever sought an easy way to extract text from PDF files, Automator provides a way. Create a new Automator workflow and in the templates sheet, choose Application. Create a workflow that contains these actions: Get Selected Finder Items (under Files & Folders in the Library column) and Extract PDF Text (under PDFs in the Library column). In the Extract PDF Text action, choose Rich Text as the output option, as the text will look better this way. Also, select an output destination—a folder you've called PDF Text, for example—from the Save Output To pop-up menu.
Now save the Automator application to your Desktop. When you're ready to convert a PDF file, just drag it on top of the Automator application you created. In a short time, Automator will extract all the text from that document and place it in a new text document within the target folder. You'll likely have to clean up the text as you'll see odd characters and formatting.