Games based on film properties have earned a bad reputation over the years, but Jaws for the iPhone and iPod Touch may take a giant bite out of that perception. Developed by aptly named Bytemark Games, Jaws isn't exactly the greatest adaptation of a film to a game that I've ever seen, but it earns a cautious recommendation for the enjoyable challenge that the frenetic gameplay offers and its great usage of the license.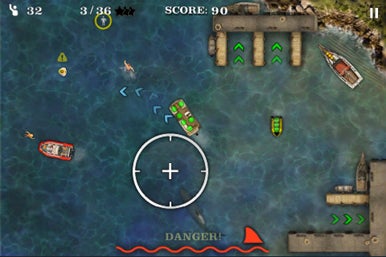 Throughout the game's 10 short levels you'll have to save swimmers from the flesh-hungry 25 foot beast that lurks below the waves. You'll use a combination of flick and tap controls to protect the hapless humans from becoming chum. In the first levels you'll flick stranded swimmers towards the shore, but eventually you'll have to direct boats around the screen ala Flight Control to pick up the helpless ocean-goers and take them to safety. Other elements—like harpoon boats which you can use to take out incoming sharks—are added into the mix as the game progresses, so the challenge stays fresh and interesting.
Perhaps the greatest thing about Jaws is the inclusion of the infamous "incoming shark" theme from the original movie. It adds to the game's atmosphere and almost justifies the use of the license by itself. While the music is fantastic, other elements of the sound design are hilariously bad, especially the lines of dialogue that the hapless swimmers scream as their short lives are threatened by incoming sharks. Equally as disappointing is the quality of the game's top-down visuals: just because the original movie is over thirty years old doesn't mean the graphics have to be dated and murky.
Jaws is a flawed but perfectly passable game that serves as a great example of how it's possible to create a fun, somewhat complex iPhone game without reliance on virtual on-screen buttons. The game controls well, and those looking for a challenge will be pleased with the frantic nature of its later levels. Once a player has achieved the best possible score on the ten included levels, it's unlikely that they'll ever pick the game up again—but Jaws is a good time while it lasts.
[Ryan Rigney is a contributor to Macworld.]