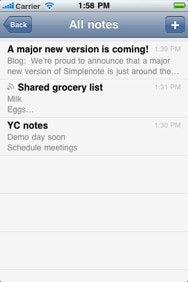 Codality has updated Simplenote, its note-taking and -sharing service for iPhone, iPad, and desktop computers, with nearly two dozen new features and fixes spread between its mobile app and its Web version.
A version 3.0.2 update to the iPhone and iPad apps has brought a ton of improvements to this streamlined note app, which sits comfortably between Apple's own Notes app and more complex competitors like Evernote. Simplenote for iPhone and iPad now has tags, which it displays as folders. You can pin important notes to the top of the note list for quick access, view older versions of notes (Time-Machine-like backups of notes), and search within notes. Each note also now remembers your last position when you re-open it.
Codality has also added a note-sharing feature to Simplenote, and has revamped the Web app's user interface in order to accommodate those changes. You can e-mail your notes to others, publish them as Web pages, or even invite other Simplenote users to collaborate with you.
Simplenote for iPhone and iPad has also gained a trash can; full iOS 4 support, including Fast App Switching; a character and word counter; an option for reverse-order sorting; a sign out button; and a slew of nips, tucks, and interface tweaks.
Simplenote 3.0.2 is available now in the App Store in a free, ad-supported version; it's a hybrid application that runs on any iPhone, iPod touch, or iPad running iOS 3.0 or higher. A Premium subscription can be purchased in-app for $12/year to remove ads and enable a number of features, such as creating notes by e-mail, customer support priority, and RSS feeds.