Bloomberg for iPad stands apart from the pack of free mobile news apps by offering an immense amount of global financial news while at the same time enabling users to create custom stock portfolios and search for information on stocks, bonds, mutual funds, and other financial instruments.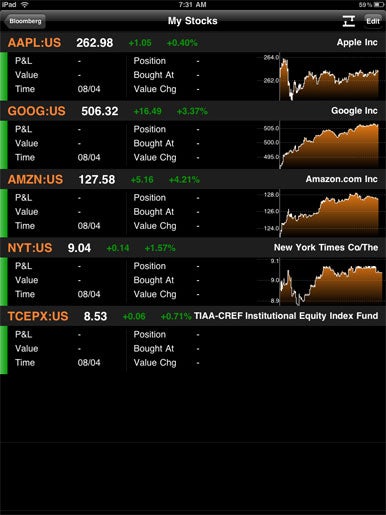 The app's interface is busy, but clear: the home screen provides top news headlines in the upper-left-hand corner and stock market, personal portfolio, and currency information in the upper-right-hand corner. The bottom half of the home screen consists of nine boxes that bring you to different sections of the app: news, currencies, bonds, podcasts, "my stocks," and so on. You can customize the news section via a panel that allows you to place in your desired order about 35 categories covering not just finances, but also countries, regions, business sectors, sports, opinion, and other topics.
Bloomberg for iPad isn't flashy—the interface is primarily white type on a black background. News stories often include photos, and you can e-mail news stories from within the app. You can also download and listen to Bloomberg podcasts from within the app.
The app could be better: it would be nice if there was an option to choose to view stories, at least, in black text on a white background. And the ability to "favorite" or save stories would also be welcome.
But these are minor drawbacks to an offering that's information-packed and free to download. Note that Bloomberg's iPad offering has ads, but they are unobtrusive, appearing in a small strip at the bottom of the screen and disappearing after a few seconds.
[Jeff Merron is a freelance writer and editor living in North Carolina.]