Lots of iPhone apps on the market needlessly duplicate functions the device already performs. Plannr, a free app from Jason Prado, does something much smarter: It integrates separate tasks into one tidy package.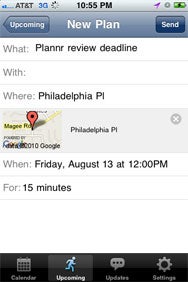 The app is exactly what it sounds like: A datebook that lets you schedule and track your appointments and deadlines. But it does more than duplicate the iPhone's native Calendar app—though, handily, it does sync with iCal. Plannr also includes access to your Contacts list, so you can notify colleagues of a pending appointment—and, like Evite, they can respond to Plannr to let you know if they'll attend. And it incorporates data from Maps, making it easy to remember and find the location of your meeting.
Plannr also lets you finely tune push notifications, offering you the ability to be reminded not just of appointments, but also letting you know when friends and colleagues respond to your meeting invitations, and even about invitations they send to you.
The app is simple, easy to use and—best of all—extremely useful. Scheduling your life and work is a breeze with Plannr.
[Joel Mathis is a freelance journalist and political columnist for Scripps Howard News Service. He lives in Philadelphia.]