At a Glance
Expert's Rating
Our Verdict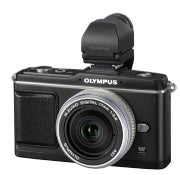 The 12-megapixel, interchangeable-lens Pen E-P2 is the second Micro Four-Thirds camera from Olympus. It offers the same great-looking, old-school design as its predecessor, the Olympus Pen E-P1, but ups the ante a bit with some unique in-camera modes and the inclusion of an attachable, eye-level electronic viewfinder (EVF).
It's available in two kit configurations, bundled with a 14mm-to-42mm f3.5-to-f5.6 M. Zuiko ED zoom lens (the configuration we tested for this First Look) or with a 17mm f2.8 M. Zuiko pancake lens.
Although it's approximately the same size as Panasonic's most-compact Micro Four-Thirds system camera, the Lumix DMC-GF1, a couple of important differences distinguish the Pen E-P2 from that competitor. The E-P2 lacks an on-board flash (the hot shoe that supports the EVF or an external microphone can also handle a mountable flash); but unlike the Lumix DMC-GF1, it does have in-body stabilization, which means you don't need stabilized lenses to get that feature. The eye-level EVF is also a notable difference.
The Pen E-P2 is also more expensive, sold at $1100 as a kit with either the 14mm-to-42mm zoom lens or the 17mm prime lens. That price puts it well beyond the realm of most entry-level DSLRs, many of which cost less than $700 at this point. What you get in exchange is the more-compact size of the Olympus Pen E-P2, the ability to shoot 720p HD video, and entertaining in-camera features—some of the most fun features I've ever used.
Here's what makes this camera so hard to put down: An Art Filter mode, called Diorama mode, mimics the effects of a tilt-shift lens and makes full-size objects look like miniature models. It's extremely fun to experiment with this mode in city, waterfront, or landscape shots.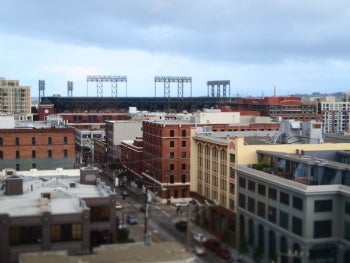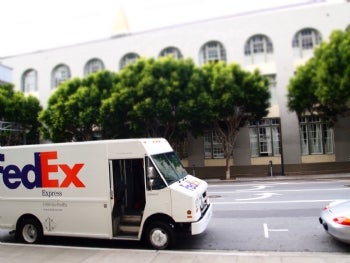 You can also apply the Diorama mode (and any of the seven other Art Filters) when you're using the camera in 720p video mode. That said, you'll have to deal with a few limitations: First, when shooting in Diorama mode, the camera is doing a lot of real-time processing that makes the live-view viewfinder feed extremely jumpy. Second, the camera shoots at only 15 frames per second and then speeds up the footage to 30 fps. The resulting footage looks like an old-timey movie.
Shooting video in HD mode without an art filter is a different story. The on-screen action is smooth, and the camera takes vibrant footage with great color saturation. To my eyes (lab imaging tests are still pending), the Pen E-P2 shot brighter, better-exposed stills and video as compared with the Panasonic Lumix DMC-GF1.
Beyond the E-P2's compact size, there's a lot to like for advanced photographers. The E-P2 shoots RAW-format images as well as JPEG, and you get full manual control for both stills and video, plus mode-dial access to shutter priority and aperture priority settings.
The controls are very well implemented, too. Using a thumb-controlled scroller on the back, you can adjust aperture settings, while pressing or scrolling the four-way directional pad navigates the menu. You have a lot of options for navigating the camera's settings; the arrangement can be as complex as you want it to be, but it also has very easy-to-use auto modes, scene modes, and Art Filters.
We've been having a lot of fun with this camera, but we also have a couple of gripes so far. One is the difficulty of finding some settings in the menu; it's a great menu system for simple selections, but our hunt for certain advanced controls (such as setting the E-P2 to exposure bracketing mode or activating the one-touch white balance settings) had us diving into the manual.
Another nitpick concerns the macro mode, which sometimes had a hard time locking on to a subject in the foreground when I used the 14mm-to-42mm kit lens on our review unit. That focus confusion probably won't be an issue with the 17mm pancake lens, but it's worth mentioning.
At $1100, the Olympus Pen E-P2 is also significantly more expensive than an entry-level DSLR, and with a DSLR you get a true optical viewfinder, a bigger sensor, and a wider array of lens options. To put it bluntly, however, this is one of the most fun-to-use cameras I've ever picked up.