37signals's Basecamp is a Web-based project manager that provides compelling ways to collaborate with team members, whether they're across the hall or the country; OmniFocus is a native project manager for Mac, iPhone, and iPad. Now there's a way to bridge these two seemingly disparate worlds with Spootnik.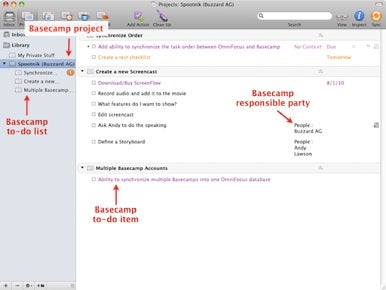 This new Web-based app and service from Buzzard, a Swiss software shop with a focus on products for 37signals services and for business, will sync your Basecamp projects and task lists with OmniFocus. Spootnik can sync Basecamp with just, say, an iPhone or iPad (no Mac version is needed as an intermediary), or with every type of Apple-made device you can throw at it. It also provides a separate Web interface for editing your OmniFocus tasks in a browser.
You can customize which Basecamp projects and task lists you synchronize, as well as how often Spootnik should sync. Basecamp projects become folders in OmniFocus, and Basecamp task lists become to-do lists under each OmniFocus project folder. If you assign tasks to team members in Basecamp, their names become contexts in OmniFocus for yet more organizational power.
Buzzard offers a variety of Spootnik subscription plans based on how many projects you and your team need to sync, rather than the number of team members who need to sync. The company also offers a free plan that only includes OmniFocus synchronization between Mac, iPhone, and iPad—handy if you do not have a MobileMe, Dropbox, or Web hosting account for syncing already. Spootnik sync plans that include both the OmniFocus Web front-end and 15 Basecamp projects start at $12 per month.