TransMedia's Web-based Glide operating system has reached version 4.0, and among the new features of the system is compatibility with Apple's Safari browser.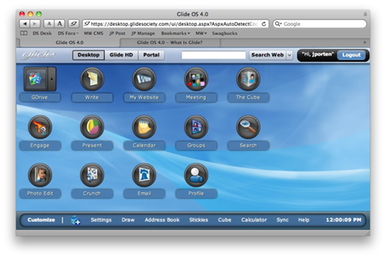 Glide can help you seamlessly move files and information between your Mac, iOS devices, and sundry non-Apple gadgets. Version 4.0 adds a number of improvements over 3.0, including 30 gigabytes of online storage, the ability to transfer files and Web content across multiple computers and mobile devices, and compatibility with Safari (in addition to Chrome, Firefox, and IE).
There's much more to Glide, including a word processor, spreadsheet, and even photo-editing software with iPad support. In addition, Glide can play back Flash videos that you've saved to your account on an iPad. More videos and information, as well as Glide registration, can be found at the Glide OS website.
Glide is a combination of a Safari Extension, HTML5, and Flash; if you already have Flash installed, setting up Glide just involves a one-click download and a brief registration process.
Glide OS comes in two versions: the free service provides 30GB of storage and six linked accounts for sharing information in families and small workgroups. Glide Premium, for $50/year, ups the storage to 250GB and 25 linked accounts. It's available for—are you sitting down?—Windows, Mac OS X, Linux, Solaris, Android, BlackBerry, iPad, iPhone, iPod, Palm Pre, Symbian, and Windows Mobile. Because its support for Safari relies on an extension, Glide requires Safari 5.0 or later.