Apple's Magic Trackpad is designed to perfectly match the aluminum wireless keyboard that ships with new iMacs, but if the silver finish doesn't do it for you, ColorWare can help out. The company has added the Magic Trackpad to its long list of Apple products it can chromatically customize to your heart's liking.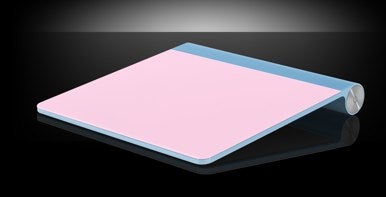 Using ColorWare's online Design Studio, you can select separate custom colors for your Magic Trackpad's body and trackpad, and choose between a glossy or "soft touch" matte finish. You also have the option to add tiny, sparkly flakes to your paint job with a "Metallic" option, or to give it a rich "Pearl" coating that provides a color changing effect under certain lighting.
ColorWare's Design Studio makes the color selection process easier by giving you a real-time representation of how your tricked-out trackpad will look with the colors of your choosing.
When you've settled on a color scheme you like, you can order a brand new customized Magic Trackpad for $145 or send in your own Trackpad and have it customized for $75. Pricey? Sure, but fashion always comes at a price, and if that price happens to be higher than the device itself—well, who are we to judge?