Gmail has long made it easy to communicate by sending and receiving e-mail, or chatting with friends instantly via text or video. But as of Wednesday, Google's mail service is attempting to connect computer users to an entirely different beast—the telephone.
Gmail users can now make phone calls—local or international—from right inside their Gmail account, thanks to integration with the Google Voice service. According to Google, all calls to the US and Canada will be free until the end of the year; Google Voice calling rates will dictate the cost of ringing up international phone numbers.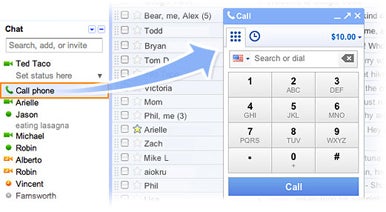 The feature requires Google's voice and video plug-in be installed. Users can then select "Call Phone" from the Chat menu in Gmail's sidebar and dial any phone number using the virtual keypad—you can also enter the name of one of your contacts. In addition, those with a Google Voice account can receive incoming calls to their number within Gmail, if they so choose.
Unfortunately for Google Apps users and those living internationally, Gmail calling is currently only being rolled out to users with personal Gmail accounts in the U.S. However, according to Wednesday's blog, the company is "working on making [calling] available more broadly." For more specific steps on how to make a call, Google has a helpful guide on its Website.
Read more…