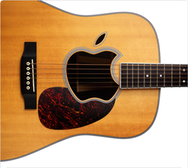 Apple on Wednesday announced that it would be holding a special invitation-only event on Wednesday, September 1, at the Yerba Buena Center for the Arts in San Francisco.
As usual, the invitation itself is a terse affair, listing only the time and place and showing a picture of a guitar with an Apple-logo-shaped sound hole. In past years, Apple has used September events to showcase music- and media-related products, such as new iPods.
Recent speculation has focused on a few topics for this year's event, including a music-streaming service built on top of technology acquired from Web site Lala, a revamped Apple TV, and the addition of iTunes rentals for TV shows.
Macworld will be on hand to provide live coverage of the event as it happens, beginning September 1 at 10 a.m. Pacific time.