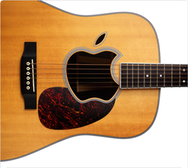 If you've been paying attention over the past few years, you know that in the early autumn Apple holds a music event that invariably introduces new iPods. The idea being that the holiday season is rolling around and Apple wants to release something that people can jam into a festive package and give to their dearest and nearest.
Apple has just announced that this year's event will be held on September 1st. I expect that, as usual, we'll see that new crop of iPods. But there's a good chance that we'll see something more. Rumors are flying of a new Apple TV, a camera or two brought to the iPod touch, and even a smaller iPad.
Apple TV
Although an updated Apple TV is certainly needed, it's far less likely to be announced than new iPods. However, I imagine that in order for the next Apple TV to succeed it will need to be a device that obtains media in a wholly different way than the current model. In fact, it could signal a change to the way Apple distributes media. And if Apple does indeed expand the way it distributes media, other devices would be affected as well. So we talk about the Apple TV first.
Look at Apple's catalog and you see a lot of products flying off the shelves—laptops, iMacs, iPhones, iPads, and iPod touches. One product that isn't flying off the shelf—and hasn't at any time that I can recall—is the Apple TV. At first it was a biggish deal—even earning a short-lived commercial—but when it failed to catch on, largely because there wasn't much video content for it, Apple termed it a hobby.
Then Apple relaunched the Apple TV with Steve Jobs' proclamation that he clearly understood why the first iteration didn't catch on—that lack of movies and TV shows thing again. And so, with Apple making important deals with movie and TV studios, the Apple TV moved from Hobby to Going Concern.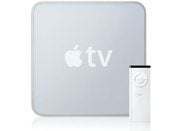 That is, until the studios dragged their feet and didn't provide the 1000 movies to the iTunes Store until months after Jobs' promised delivery date. And so, back to hobby status it went. And there it stayed even after Apple assembled a respectable catalog of TV shows and movies.
But that wasn't the Apple TV's only content problem. The device was fine for people who obtained the bulk of their media from the iTunes Store or were savvy enough to rip their own movies and put them in iTunes in an Apple TV-compatible format, but that regrettably doesn't describe a lot of people. Add the things that the Apple TV couldn't do—provide a way to play Blu-ray discs, act as a DVR by recording broadcast TV shows, or reach out to the Web to stream movies and TV shows a la Netflix and Hulu—and you have a lot of otherwise enthusiastic Apple customers who scratch their heads and wonder what this small set-top box is good for.
Given that the "here's a box you can use to purchase content from iTunes and play on your TV" concept hasn't proved entirely successful, and that Apple likely wants to play in this space, it's time for a rethink on exactly what an Apple TV might do.
Of the three things I mentioned—Blu-ray, DVR, and streaming content—I think two of them are unlikely. Apple has shown no love for Blu-ray (and very little for any other removable disc technology in the last few years) so that's out. If you want Blu-ray, you get it from another device. Likewise, unless Apple jumps into video with both feet and does something interesting like buy TiVo, this isn't a DVR.
And that leaves streaming content. There are a couple of interesting avenues Apple could take. The first is streaming the content you own.
Several months ago, Apple acquired Lala, a service that, among other things, took note of the contents of your iTunes music library and allowed you to stream that content over the Internet, thus providing you a way to access your music from anywhere that had an Internet connection. ( Rdio, a recently launched music subscription service, offers a similar service for $5 a month via a Web browser or $10 a month to mobile devices.)
So, the technology exists and Apple now owns a big hunk of it. It's hardly a leap to imagine Apple announcing that you can do this sort of thing with your Apple TV, computer, or iDevice. Just as with iTunes Genius feature, you upload a list of the content of your iTunes library to Apple and Apple makes those tracks available to you for streaming.
Apple could stumble by allowing you to only stream content you've purchased from the iTunes Store. That would be the same mistake Apple originally made with the Apple TV—confining you to iTunes. My hope is that a streaming library would contain everything in your iTunes library—including those tracks you've ripped from CD or obtained elsewhere.
An interesting question is whether Apple would then take the next step and, for a price, let you stream any music from the iTunes Store, and yes, we're talking a subscription service. It's no secret that I love subscription music services, but then I'm a music geek. While subscription services have managed to survive, except for Pandora and a couple of services not available in the U.S., these things are hardly thriving. However, if anyone can sell the benefits of subscription, it's Apple.
And video and TV shows? As a consumer, I'd love it. But honestly, I can't see the studios giving up the control to the extent of allowing customers to stream their content. They saw what happened to their cousins in the music business and don't want to have the same thing happen to them. They far prefer dictating to Apple rather than the other way around. The rumor of 99 cent TV show rentals makes far more sense than streaming video.
And then there's Internet content. Currently, companies that produce set-top boxes cut deals with content providers such as Netflix, Hulu, Vimeo, YouTube, and so on, so that their content can be delivered by such and such set top box. Apple has a couple of these deals in place with the current Apple TV—specifically YouTube and Flickr. With its new Apple TV, it could pursue this same strategy and make more deals.
Or—and this is the more likely scenario—Apple could do as its done with the App Store and step out of the way and let third-parties do it. So the next Apple TV becomes another iOS device that uses third-party apps. If Netflix or Hulu or ABC or NPR or whoever wants to get its content on the device, it simply makes a compatible app for it. That way Apple's out of the subscription business and instead makes its money from the device itself and any App Store deals it cuts.
Apple's happy because it firmly establishes a foot in the living room (and makes money in the bargain), third-parties such as Netflix and Hulu are happy because they sell more subscriptions, and customers are happy because TV-linked video-on-demand just got a lot easier.
And who isn't happy? ISPs and cable companies (which, in the case of Comcast, are the same entity). A very successful Apple set-top box threatens to not only increase the amount of data travelling down the pipe, but could also cause some people to rethink the necessity of cable TV. You can therefore understand why companies like Comcast are so anxious to cap the amount of data you can use each month.
The no-regulation crowd would suggest that the market can sort this out via competition, but that crowd fails to acknowledge the monopoly status companies such as Comcast have in some markets. If you want the kind of Internet access that could support a device like the reborn Apple TV, it's often Comcast or nothing.
And, possibly, some networks and studios won't be keen either. Again, the movie studios like their DVD, Blu-ray, and pay-per-view sales. HBO isn't keen on offering its content to other outlets until years after it's been sold in other ways. The foot-dragging was evident when the iTunes Store first offered video. There's no reason to believe that the studios have had a change of heart and will offer new content at an accelerated pace.
Of course media isn't the only thing that a new Apple TV might offer. If it is indeed an iOS device, then you have to look at other kinds of apps as well, and for those plunked in front of a big ol' TV, that means games. As the Xbox, PS3, and Wii have demonstrated, gaming boxes that also happen to play media are a popular item, particularly around the holidays. Provide an Apple TV that can play high-resolution games—with surround sound, an HDMI connection, and hardware controllers, yet—and you've got a fairly formidable hunk of hardware sitting next to your TV—formidable enough, in fact, that many people may forget all about its inability to play Blu-ray discs or record TV broadcasts.
iPod touch
In many ways the iPod touch's main selling point is that it's very nearly an iPhone but without all the phone stuff. And that's compelling for a lot of people—particularly those who are envious of the iPhone but for one reason or another (they're tied to a Verizon contract, for example, or can't afford the iPhone's monthly charge), can't have an iPhone. And Apple does its best to push that perception along—"Look, it can use nearly every app made for the iPhone and has the same cool interface!"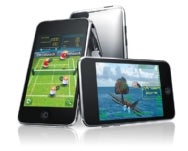 So, what does Apple do to sell the next generation iPod touch? Seems like adding a couple of cameras is the obvious option. The iPhone 4 has a much improved camera over its predecessor. Although it's not great in low light, it takes quite lovely shots in good light and its videos, while not quite as good as those made by the best pocket camcorders, are impressive when you consider they were shot with a phone. Put that camera on the back and you've got something.
But you've got something more if you also place a front-facing camera on the iPod touch. That makes FaceTime possible and that's a very sexy feature—one that will send a lot of current iPod touch owners dashing to the Apple Store to upgrade.
(That said, I remain unconvinced of FaceTime's utility. I've used it a couple of times and while I think the technology's cool, it's not my preferred—or desired, for that matter—way to communicate. It's a terrific way to play show-and-tell with your iPhone, but for everyday conversations, no thanks.)
And, if Apple decides to start streaming audio, there's another selling point, though I don't see the company drawing the line at the latest iPod touch.
Other iPods
And that leaves the rest of the iPod line. What happens to it? The iPod nano ( ) has been the big seller of the traditional iPods for the past several years. It's priced right, holds a good amount of media, plays video as well as music, can tune into FM radio, and can shoot video. What might Apple do there?
Apple could certainly punt as it did a couple of years ago and change the form—make it squat again rather than long. It could increase capacity and maybe let it shoot stills as well as video (provided they've overcome the technical problem of fitting a decent camera sensor onto such a thin device). What would be far more compelling is if it became Wi-Fi-capable. Again, if Apple starts streaming content, the iPod nano becomes the very affordable way to access a load of music from anywhere with a Wi-Fi connection.
And speaking of a load of media, let's talk about the iPod classic ( ). Following the "if Apple allows streaming" theme, I have to think that the iPod classic has reached the end of the road. The single big advantage the classic has is capacity. If you need to carry a lot of media with you, it's the iPod to have. But if Apple allows streaming, you don't need to carry a lot of media with you because it's available from the cloud. An iPod nano will get you through nearly all situations where you don't have access to Wi-Fi—on a long plane trip, for example.
And the iPod shuffle ( )? It should just keep shuffling along—maybe with some different colors. My hope would be that Apple relents and puts a couple of buttons on the thing as navigating it with the headphone controls is awkward. But it's not really Apple's way to say "Huh, that wasn't such a hot idea, let's put it back the way it was." So my hope has a rickety foundation.
The iPad nano?
And finally, there's the smaller iPad—7-inches diagonal if the rumorists are to be believed. There are a couple of models we could follow on this one. Follow the traditional iPod model and an iPad nano makes sense—smaller device, less capable (Wi-Fi only, for example), and lower cost. But then there's the iPhone model. One might argue that the iPod touch is the iPhone nano, but given that it has no phone or texting features, I think it's a bit of a stretch.
And then there's the utility and timing. Apple claims the iPad is the device that fits between the iPhone and Mac—performing some of the chores of each but not offering the complete complement of features of either. I have to wonder if there's room to wedge in yet another device that fits between the iPod touch and iPad. Maybe add a camera and offer the device at $299 and you've got a tempting product.
But the other question is whether Apple's willing to risk the rage of current iPad owners by releasing a smaller and less expensive sibling this soon after the release of the original iPad—remember, it just came out in April. From what I've observed, iPads are still selling like hotcakes and look like they'll continue to into the holiday season. Does Apple really want to cannibalize sales of the full-size iPad for a smaller device, particularly if that smaller device might as well be a fourth-generation iPod touch?
And more?
Careful Apple observers have noted that Apple likes to stay on message. The Autumn event is invariably about media (and, based on the guitar image in Apple's invitation, perhaps about music specifically). That hints to me that while updated iLife and iWork suites are overdue, it doesn't make a lot of sense to throw them into the mix. They're not hot holiday items and they're the kind of thing that Apple could save for another event or simply unveil in a series of meetings with the press. Likewise, new Macs are for another time.
Apple has just announced the event and so this, of course, is all speculation. We'll see how coherent these thoughts are next week.
64GB iPod touch (3G, late 2009)
Price When Reviewed:
$380.87