Perhaps it's because of the iPad's shape and its ample screen size, but for some reason, app developers look at Apple's handheld device and think "magazine." A slew of apps, from Flipboard to Pulse News Reader, promise a magazine-like layout for your RSS feeds. Developer Cooliris has tried that approach with Wikipedia. Its free iPad offering, Discover—Wikipedia in a Magazine takes content from the online, crowd-sourced encyclopedia and formats it to give it a magazine-style appearance.
Discover largely succeeds at bringing a magazine format to the Wikipedia experience—in some ways, the app even improves upon the look of magazines. But the quality of the layout varies from topic to topic, and the app could take greater advantage of the iPad's features.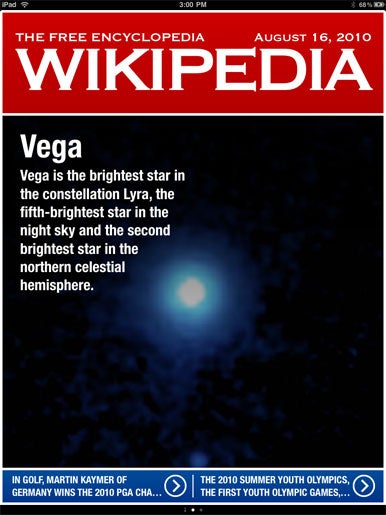 When you launch the app, you'll see a magazine cover version of The Free Encyclopedia Wikipedia for that day. The cover's look changes on a daily basis, but it usually features a top story headline (the Wikipedia Website's featured story of the day) and a cover picture related to the headline. Secondary headlines occasionally appear along the bottom of the front page. The covers might not match the creativity of what you'd find on a newsstand, but it certainly gives Discover a distinctive magazine-like look.
If you want to read the top story of the magazine, just tap the headline; the app will take you a page covering the topic. If you don't want to read the top story, swipe downward to access the app's search engine where you can type in a topic of your choice.
I tested Discover's search engine by looking up information about San Francisco. I didn't find the look of the results to be terribly impressive—though formatted to look like magazine pages, the San Francisco entries had a white background with bland black text and a few pictures that seemed haphazardly placed.
As it turns out, some Wikipedia topics lend themselves to a magazine format better than others—they're colorful and interesting to look at. Others don't easily adapt to Discover's look-and-feel. Still, thumbing through Discover's articles, the experience felt more like reading out of a magazine than off a Website. In that sense, the app gets the look and feel right.
Though not every translated Wikipedia topic becomes aesthetically enjoyable magazine pages, topic translations do follow a simple format. If a Wikipedia topic's Website is separated by subcategories, the app will separate the subcategories and put them on different pages. That way, pages aren't overcrowded—an approach that I found adds to the experience.
One of Discover's particularly nice features is its definition finder. If you don't know the definition of a word in an article you're reading, you can just hold your finger down on the word; a small text box will appear with a definition. If Wikipedia has more on the word than its simple definition, you can tap on the definition box to find out more.
Discover has some iPad-influenced features, though I think it could do a better job of exploiting some of them. If you use the app in landscape mode, a Related Articles pane appears on the side with links to other content within Discover. (In Portrait mode, the article fills the entire screen.) You can't use finger gestures to zoom in on magazine pages while you're in them. To increase magazine text size, or change text format, you have to go to the Ipad settings' menu, click on the app's settings, and then change the text. If you want to change magazine text format, you only have four text formats to choose from.
To get a closer look at images within Discover, you have to hold your finger down on the picture; you'll be asked if you want to open a Safari page using that link. If you do jump to Safari, you won't be able to get back to Discover without relaunching the app. You won't go back to the page you were on when you left the app, but scrolling downward will bring up a list of the articles you visited most recently.
Discover requires an active Internet connection, and there doesn't appear to be a way to save articles for offline reading. If you're using a Wi-Fi-only iPad and there's no connection to be found, you won't get much use out of Discover.
Discover does what it's supposed to, which is give Wikipedia content a new (and usually improved look). In many cases, articles benefit from the magazine-style treatment. But better integration with the iPad would have made for a more enjoyable experience.
[Sam Felsing is an editorial intern with Macworld.]