Sometimes you can wave a magic wand over a product and get just what you're looking for. When we reviewed iScrapbook 2.1.2 late last year, the program had many solid features—an easy-to-use interface, simple layouts, examples and templates, and enough flexibility and power to help you create cool effects for your digital scrapbook pages. Though the earlier version was a very good product in its own right, iScrapbook 3.0.4 skyrockets the software into a whole new realm by giving you a universe of free and enhanced templates, page and album designs, and artwork you can use to create your own great pages.
Many of the new features seem geared toward showering you with all the inspiration and visual assets you could ever want. Two of the biggest stars in the new feature lineup include Smart Templates and iScrapKits. Both of these elements help you build beautiful, compelling pages by providing page design and graphic elements—papers, frames, embellishments, and more—that add richness and texture to your pages. With the new version, you get free access to 16 complete iScrapkits. They are substantial, offering papers, embellishments, fonts, all kinds of items you might want for your pages. In the previous version, you could access the one iScrapkit that came with the program, but you had to buy anything else you wanted to use. This free access to professionally designed iScrapkits dramatically increases the design elements you can add to your pages.
The screen shot below shows a Smart Template into which you can add letters, photos, and embellishments (like ribbons, buttons, or flowers). You can also easily drag a background paper to the page or change the color scheme to reflect the tone and feeling of the story you want to tell. Adding content to a Smart Template is simple—just double-click a placeholder and choose what you want to insert, or drag to the page an image from your iScrapKit Browser or iPhoto Browser.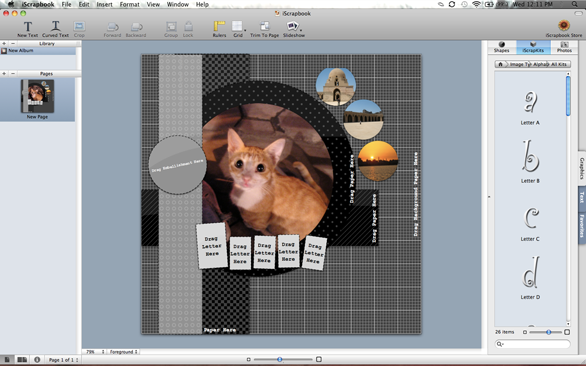 If you're a registered user, this new version of iScrapbook includes access to a rich collection of some 100 free templates in 12-by-12 and 8.5-by-11-inch sizes from the Chronos Web site. (The templates are available as a download because of their large file sizes.) Templates make page creation simple because they include the basic page design, as well as text and image placeholders, to get you started. For example, a page template might include a background paper, picture frames, embellishments, and more. An album template could include several page layouts, all using the same color scheme, font choices, and embellishment style.
And if all the templates aren't enough, you can download literally thousands of pieces of artwork from dozens of iScrapKit collections on the Chronos site. The artists collection includes a large variety of scrapbooking kits designed by artists across the globe, covering just about every theme and color scheme imaginable. The Basic Collection includes a wide range of iScrapKits that provide almost 1,300 different elements including alphabets, papers, stamps, and embellishments. After you download the iScrapKits, a new cover flow preview feature lets you browse the various kits so that you can see what they include and choose the one you want to use.
iScrapbook 3 also adds font features that help you select and stylize the text on your pages. Whether you want to add text as a graphic element or add captions, poems, and descriptions to your pages, you can curve text around objects or spiral it for special effects. You can also use the fascinating Font Preview feature when you're trying to decide on the right font for your page. You simply add your text as usual, click the options arrow, and choose Font Preview. In the Font Preview window, click the font families you'd like to see, and iScrapbook displays the text in those fonts. You can choose from a variety of animation options to scroll the font choices in various ways in the preview window.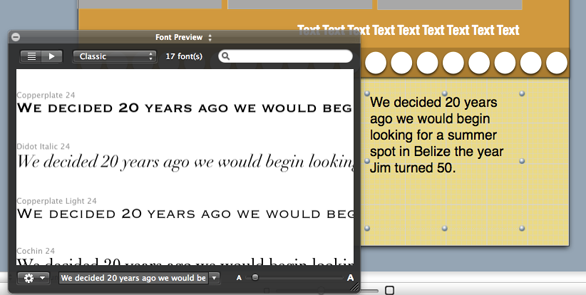 iScrapbook 3 offers much to both new and experienced users, but the one small place the new software seems to fall a bit short occurs in those first few moments after you open your first page. If staring at a blank page makes you want to run for the hills, you'll yearn for a little more hand-holding when you first fire up iScrapbook 3. Although the initial screen offers first-time users the choice of starting with a page or album design and selecting a template, a basic introduction for inexperienced scrapbookers—perhaps giving a quick overview of the steps involved in creating a scrapbook page for all users—could better ease folks into the process.
Macworld's buying advice
With the vast array of changes in iScrapbook 3.0.4 and the expanded constellation of Smart Templates, iScrapKits, and page and album designs geared toward helping you create amazing pages easily, the $50 single user edition of the software is definitely worth the price. The $90 Family Pack gives you up to five licenses in a single household (on different computers), so if your entire family and th0e dog all have scrapbooking stories to share, the Family Pack may be right for you. No question, however; the single-user version of iScrapbook 3 is a good investment if you love great design, have an eye for color and texture, and have some good stories to share.