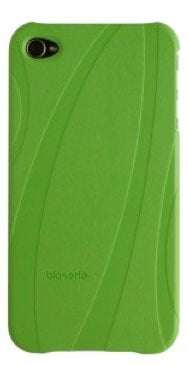 Green is the trend these days, and what could be greener than an iPhone 4 case made entirely from renewable, organic resources? Hong Kong-based Bioserie has released a new iPhone 4 case made of bioplastic—an organic material that contains no toxic ingredients and is easier on the environment during production.
Bioserie's new iPhone 4 case is built using cutting edge bioplastics technology—a manufacturing method that uses biological material from living or recently living organisms such as wood, vegetable oil, and microbiota. The process produces fewer greenhouse gas emissions during production and prevents the case from contributing to toxic environmental pollution when it's eventually discarded.
Weighing just 12 grams, Bioserie's case offers lightweight protection for the entire body of your iPhone. Screen protection feet on the front of the case allow your iPhone to be safely placed face down on flat surfaces.
The case, which costs $35, is available in black, white, orange, two shades of green, and red. Bioserie also offers bioplastic cases for iPhone 3G and 3GS, as well as the iPod touch and nano.