Adobe on Wednesday announced a major redesign of its free online editing tools at Photoshop.com, giving consumers one less reason to BitTorrent the real McCoy. The suite of rich Web apps has been redesigned, renamed, and reorganized to make sharing and editing photos online easier. But the real improvement to these tools is easy access: The Photoshop Express Editor is now open to all visitors—no sign-up or sign-in required.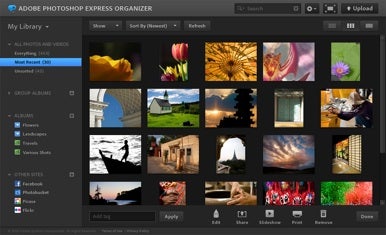 Photoshop.com now features four Web apps under the "Photoshop Express" name: Photoshop Express Editor, Organizer, Slideshows, and Uploader. The Editor app is for touching up photos; the Organizer app allows you to sort photos into albums and share them with friends; the Slideshows tool makes it easy to create interactive slideshows from your images; and the Photoshop Express Uploader puts your photos on the Photoshop.com site in order to set up your creative photographic canvas.
All Photoshop Express apps are free to use, and interestingly, Adobe no longer requires you to register for an account before you can begin using Photoshop Express Editor. You can upload a photo, take advantage of Adobe's basic online tools like crop, color tweaking, and filters, then export your masterpiece back to your computer—all without forking over so much as a fake e-mail address. The other Organizer and Slideshow apps, by necessity, require registration, which gets you 2GB of online storage space for free from Adobe.
Photoshop Express Organizer and Slideshows allow you to organize your photos into online albums and create interactive slideshows, then share them privately with specific people or openly with the world. Adobe is also taking on the likes of of MobileMe Gallery and Windows Live Photos (albeit with far less storage than either service), with the feature that allows users of Photoshop Elements to upload photos to Photoshop.com as well. Users of Photoshop Express on iPad, iPhone, and Android devices can also upload directly to Photoshop.com.
In line with Adobe's gradual repositioning of the Photoshop brand as not just a desktop application for designers, but as your go-to, cross-platform service for editing and sharing photos, you can cross-post photos to Facebook, Flickr, Picasa, and Photobucket, and link them on Twitter.
While Adobe offers Photoshop.com and 2GB of storage to everyone for free, it also allows ambitious users to purchase more online storage for a yearly fee, starting at 20GB for $20.