Anyone who has ever traveled with kids knows how important planning a road trip can be. Stopping for meals is often the highlight of a long day on the highway. It seems that kids never decide where they want to eat until after you've passed the exit by a few miles. iExit for the iPhone aims to change all of that by taking the guesswork out of traveling on the interstate.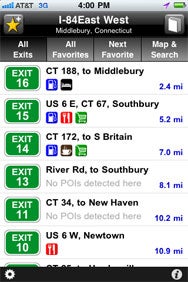 A $3 app from Allstays, iExit offers an extensive database of restaurants, hotels, and major retailers at most exits along highways and interstates all across the country. The app relies on the iPhone's GPS capabilities and free travel information available on the AllStays.com travel Website. In testing iExit I found the app's entries to be accurate most of the time although some information was out of date, as is bound to be the case with any travel app.
Each entry in iExit includes the business's distance from your current location, its distance from the off-ramp (which can be customized), a map, and a phone number. iExit does not include physical addresses—a surprising omission—and instead displays directions in the iPhone's Maps app which include only the restaurant's general location and the street name.
iExit includes a directory of major restaurant and hotel chains you can "favorite" so that certain brands appear at the top of forthcoming exits along your route. While on the highway, iExit displays favorites at the top of the window so that you can easily find them at each exit, a helpful feature for anyone desperately searching for the next Chick-Fil-A along their route.
I found iExit to be somewhat sluggish during road testing, though the recent 2.3.1 update promises improved speed when loading exits and points-of-interest on the map view. (The 2.3.2 update, released as this review was published restores iPhone OS 3.0 compatibility for users who haven't upgrade to iOS 4 yet.) I tested iExit while traveling as a passenger on I-84 in Connecticut. While iExit did display information on each exit, it also crashed a few times in two different locations along my route. It's possible I was just in a bad coverage area, though.
iExit is a valuable resource for travelers in general and especially so for parents of picky eaters. While it isn't perfect, iExit offers a bevy of information when you need it most: out on the road.
[Macworld contributor Brendan Wilhide covers the sports industry and social media on Sportsin140.com.]
Updated on August 26, 2010 to note the release of iExit 2.3.2, which came out as this review was published.