David Woodbury got an early hint the iPad would be a big hit among the scholarly set.
When the Apple tablet went on sale to the public last spring, Woodbury ordered 30 for the libraries at North Carolina State University in Raleigh to be available for checkout by students and faculty. Demand was immediate and widespread.
"Literally, the hour we started [lending out iPads], we had students lining up to use them," said Woodbury, NCSU's Learning Commons Librarian.
That popularity is likely to increase this fall. Universities and schools around the nation—and even the world—are distributing iPads to students and faculty to start the new school year. Some are using the device to lure talented freshmen; others hope faculty and students will merely experiment with the tablet as a learning tool. But a few educators are betting the iPad will herald a revolution in the classroom, once-and-for-all displacing musty textbooks in favor of a mobile multimedia device that can engage students in new and innovative ways.
"I think we realize that at some point in the future, textbooks will be digital and that we'll be using a device like the iPad in the classroom," said George Saltsman, Director of Educational Technology for the Adams Center for Teaching and Learning at Abilene Christian University, where the device will be used in two classes this fall. "I don't know that we're ready to say that we'll do that next year, but I do think that in five years all our students will be getting their texts digitally."
Here are some examples of how educators are putting the iPad to work this year:
Recruiting tool George Fox University in Oregon has recruited students since 1991 by distributing computers and laptops to all incoming freshmen. Officials have considered dropping the expensive program in recent years. Instead, this year's freshmen were given a choice: MacBook or iPad. About 70 students—10 percent of the incoming class—chose the tablet, which costs about half as much as the laptop ($499 versus $999 for the base models of each). Eventually, officials say, the iPad will be the only option—letting the school continue a popular program and save money at the same time.
"The reality of offering the iPad is that we're going to kill the laptop piece of it," said Greg Smith, the school's chief information officer. "The iPad will ease that blow."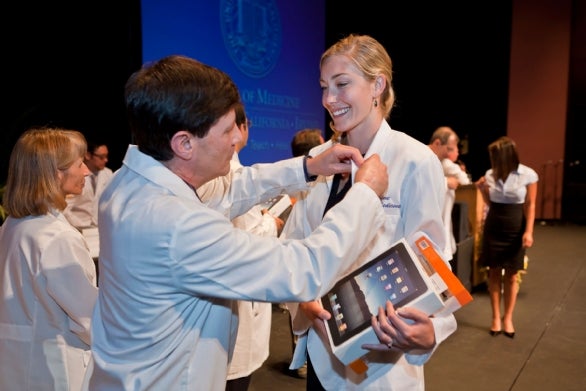 Catalyst for classroom participation At Abilene Christian—where the iPad is being distributed to 100 students in two pilot program classes—Dr. Ian Shepherd has designed his fall Econ 261 class to incorporate a digital textbook from McGraw-Hill, the Blackboard Learning Mobile app, as well as PDFs of supplemental texts. He's perhaps most excited about the No Advance NOtice (NANO), an ACU-built assessment tool that lets him instantly quiz the entire class using polls, true-false questions and open-ended essay queries. He believes that tool will help him draw reticent students into classroom discussions. He's taking aim at the "20-80 Rule"—the belief among educators that 20 percent of students dominate classroom time.
"With the device I have available, I can ensure participation from across the board," Shepherd said. "I know there's always going to be free riders, there's always going to be someone there who had a bad night. What I'm hoping to do with the tools is flip that to an 80-20."
Shoulder saver Cedars School of Excellence, a K-12 school near Glasgow, Scotland, is distributing iPads to all of its 105 students this fall. Fraser Speirs, who is supervising the project, is particularly excited about reducing the amount of paper students lug around.
There's no immediate plan to use e-textbooks, he said, but homework will be assigned and collected through e-mail—and completed using Apple's Pages software. "This is an issue, the amount of weight kids carry in backpacks," Speirs said. "If it can all be crammed into an iPad, that's a huge win right there."
Computing with less distraction At another K-12 school— Hawaii Preparatory Academy in Kamuela—teacher Dr. Bill Wiecking said the app-oriented iPads are a safe way to bring computers to young students without leaving them at the unfettered mercy of the World Wide Web. If students jump onto the Web using Safari, he said, it's easier for teachers to see. The flat tablet makes it harder to hide surreptitious surfing.
"In schools, I want to show people the world, but I want a net underneath them," Wiecking said. "Maybe it's the fact they can't multitask on the iPad very well. When you tell them to go to a Website, you know they're going to a Website. They're not on Facebook or something."
High hopes and hard-earned skepticism
Hawaii Preparatory Academy's Wiecking might be the iPad's most fervent educational proponent. He can reel off a list of apps his school will be using in the classroom: Star Walk for astronomy; Molecules for biology; iTranslate for language classes; SignalScope for physics classes—and so many more. Those apps, he said, allow students to do more than consume information. The iPad's pinch-and-zoom touchscreen will allow them interact with and manipulate it.
"It's going to be our chance to change how we teach," Wiecking said. "I'm so excited to be a teacher these days."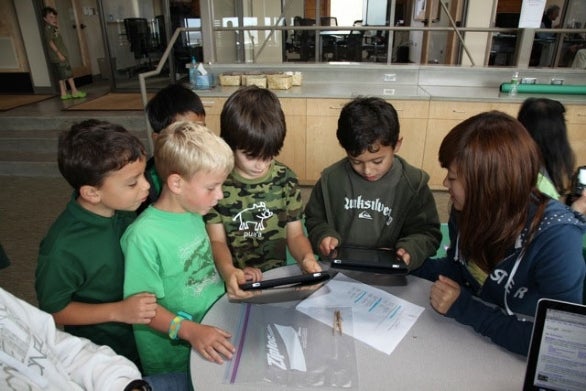 But not everyone is quite so enthusiastic. Reed College in Oregon brought Amazon's Kindle DX into its classrooms last fall for a much-touted experiment with e-textbooks. The experiment fizzled. Dr. Martin Ringle, Reed's chief technology officer, said the Kindle's lack of versatility and cumbersome navigation drove students back to traditional paper texts. ( Read Reed's Kindle DX Pilot Project report here.)
Now Reed is back, but cautiously, re-running the experiment with the iPad using a few dozen students in selected classes. Ringle expects that similar devices will be commonplace in classrooms in the next few years, but he tempers that optimism with hard-won realism—he claims a dusty Apple Newton among his possessions.
Similarly, Dr. Robert Paterson, vice president for information technology at Molloy College in New York, is one of those casting a skeptical eye. Hype rarely pans out in education technology, he said, which is why he doesn't understand why colleges like the Illinois Institute of Technology or Seton Hill University in Pennsylvania are handing out iPads to their incoming students.
"It seems like we're putting the cart before the horse. Here's a piece of hardware—figure out what you want to do with it," Paterson said. "A lot of these devices folks have put out have a lot of hype and end up sitting in drawers."
Will this time be different? The National Association of College Stores (NACS) expects e-books to grow from 2 percent of the textbook market now to 15 percent by 2012. Software developers are putting resources into an effort to ensure that iPad educational tools are more than just glorified PDF readers. But even among optimists, questions remain.
"There's lots of speculation about the impact [of technology] on learning," Reed's Ringle said. "That speculation isn't necessarily grounded in empirical study. So we want students and faculty to have the devices in a live setting and see what they discover."
Apple iPad Tablet Computer
iPad with Wi-Fi 16GB
Price When Reviewed:
$568
Apple iPad Tablet Computer