For iPhone-toting business users who still want to collect mobile payments even when they're nowhere near a cash register, a credit card reader that's compatible with their smartphone has an undeniable appeal. Accessory makers are scrambling to meet that demand by rolling out more iPhone-ready credit card readers.
How to stand out from this expanding crowd? Finance software developer Intuit and iPhone accessory maker Mophie figure the best way to do that is join forces. On Thursday, the two companies took the raps off what they're billing as the Complete Credit Card Solution—an all-in-one offering combining Intuit software with an accessory from Mophie.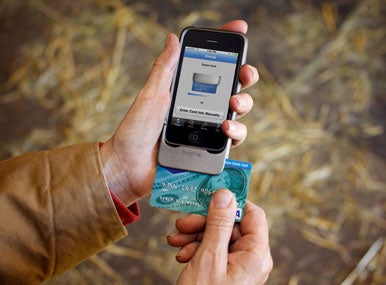 Specifically, the new bundle pairs up Mophie's Marketplace Credit Card Reader with Intuit's GoPayment mobile app. The bundle is available from Apple's retail stores and will soon be added to the Apple online store, says Mary Lunneborg, senior product manager for Intuit GoPayment.
"Customers have become more and more comfortable with mobile phones, and they want to do things on their phones that they're used to doing on their computers," Lunneborg told Macworld.
Mophie's Marketplace Credit Card Reader is a gray case made out of a polycarbonate-ABS blend. It's about the thickness of a regular iPhone case, with a magnetic credit card reader attached to the end. That reader features encryption technology so that no actual credit card information is actually stored on the phone. "There's no worry of fraud when it comes to the hardware side of things," said Ross Howe, Mophie's sales and product development director.
The Marketplace Credit Card Reader currently works with the iPhone 3G and 3GS. Howe says Mophie is working on a version for the iPhone 4 that should be available "relatively soon."
Mophie's case pairs with GoPayment, a free mobile offering Intuit has just updated to version 3.0. That update improves the signup experience so that users can quickly apply and get approval to start processing credit cards. That process used to 24 to 48 hours, Lunneborg said; GoPayment 3.0 cuts that time to around 15 minutes. The idea is that customers will be able to buy the Complete Credit Card Solution and know if they've been approved to process credit cards by the time they're leaving the store.
Other new features in GoPayment 3.0 include the ability to add inventory items to receipts and the ability to let customers sign their bill on the iPhone's touchscreen.
GoPayment features a swipe screen where a merchant enters the transaction total. The app can send a customized receipt to customers either vial e-mail or SMS. The app also integrates with the Mac version of QuickBooks, allowing merchants to sync their transactions in the field with their accounting program back at the office.
The Complete Credit Card Solution costs $180 for the case. While the mobile app is free, an Intuit merchant account costs $12.95 per month, with discount rates ranging between 1.7 to 3.7 percent and transaction fees ranging from 30 cents to 34 cents. There are no cancellation or set-up fees, however, and one account can enable up to 50 users.