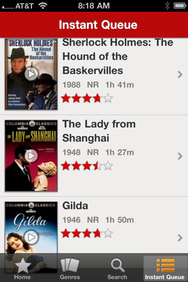 Just the other day, I found myself thinking back to this year's WWDC, where Netflix CEO Reed Hastings announced that the company would provide an iPhone version of its iPad app sometime this year. And lo, here it is: Netflix 1.1.0, which arrived on Thursday, brought support for the iPhone and iPod touch.
Unlike the iPad version, which mainly uses the same Web interface as Netflix's site, the iPhone app has been redesigned for the mobile device. Tabs at the bottom let you browse genres, search for a specific title, or view your Instant Queue of items to watch. And, of course, you can stream video available on Netflix's Instant Watch feature right on the phone, as with the iPad version.
One limitation of the app seems to be that its catalog only contains titles available for streaming: there's no way at present to manage your queue of DVDs or even add discs to your list. In addition, I noticed a few quirks that lead me to believe that most of the Netflix app is not iPhone-native but Web-based, such as the fact that you have to hit the "In Instant Q" button to remove a title from your list instead of the traditional swipe-and-delete, and the scrolling within the app, which is somehow just a bit off.
But streaming media on demand is clearly the marquee feature of the app, and if that works half as well as the iPad version, most users will probably welcome it with open arms.