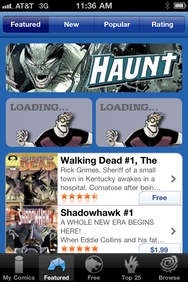 Fans of comics publisher Image Comics have been able to peruse the company's titles on their iOS device via Comixology's Comics app for some time. But on Thursday, Image joined the likes of superpowerhouses Marvel and DC by releasing its own app based on technology from Comixology.
Like the other branded comic apps, Image Comics is a free download that acts as a storefront and catalog for your comics. You can browse through the titles on offer, download both paid and free issues, and read them at your leisure using Comixology's Guided View (you can also skip that and navigate manually, if you prefer). The app can update you via push notification when new issues are available, and you can sign into your Comixology account for access to your comics on multiple devices.
One of the four big U.S. comic publishers, Image is home to series like Witchblade, Spawn, and The Walking Dead; it also owns imprints like Top Cow, Shadowline, and Skybound. With Image's foray into the standalone app realm, Dark Horse Comics becomes the only one of the big four that doesn't have its own branded application, though it distributes comics through the Comixology app as well as selling standalone app versions of its several of its titles.
Image Comics runs on any iPhone, iPod touch, or iPad with iOS 3.1 or later.