The following article is excerpted from Digital Arts.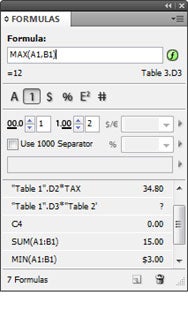 DTP Tools has announced the public beta version launch of a new plug-in for Adobe InDesign. The Active Tables plug-in enables users to perform calculations and sorting operations in text and tables in InDesign documents.
The added spreadsheet capabilities mean that raw data can be processed directly in InDesign without the need for pre-processing in the spreadsheet application. This also allows users to do more layout work in early stages of reports or catalogues production without the risk of losing formatting after the numbers are updated. If a tax, discount, or other variable affecting price changes, users only change one number and the catalogue prices can be updated automatically, saving hours of re-design work and costly errors.
DTP Tools also notes that designers can use the plug-in to create invoices, compromising neither the design quality, nor the numbers accuracy.
The plug-in can create formulas in table cell and formulas in any text flow; use cells from any table within a document for a calculation; sort table rows and columns based on multiple criteria; format results as text, number, currency, percentage, scientific or user-defined format with many sub-settings; apply different characters or cell styles to a result if it's positive or negative; define formula appearance in Paragraph Style; define frequently used constants or formulas as Names; show grid coordinates for tables; and list tables in the document.
Active Tables works with InDesign CS5 and CS4 on either OS X or Windows.
Active Tables for Adobe InDesign