We're fast approaching the day when the App Store will include just as many e-reading apps as novelty fart apps. The latest e-reading app I looked at for Macworld—after Kindle, iBooks, Nook, and Stanza—is eBooks by Kobo, a free e-reader from Kobo. (In its iPhone-only days, the app went by a different name—Shortcovers—until a name switch last December.) Now, if you decide to try out the app, make sure you get the universal eBooks by Kobo app, and not the iPad-only Kobo HD app, which is no longer supported yet, confusingly, remains in the App Store.
As I've written here before, the single most important element of any e-book reader is its ability to fade away, providing no distraction and staying out of the reader's way. Kobo passes this test, but it just squeaks by.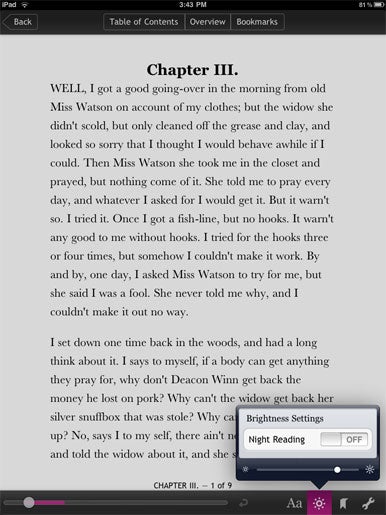 Kobo, like any good e-reader, revels in the fact that it's not paper. You can customize your books' text in numerous ways. While the app offers a scant four fonts to choose from, those fonts include both Georgia and Baskerville, which I find work great for extended reading jags. Beyond the font family, you can also adjust font size with a slider that ranges from unusably small to fairly huge. You can choose whether to respect the publisher's text alignment preference or force your books' text into left-alignment or full justification.
Similarly well-implemented are Kobo's brightness controls. While the app doesn't offer Nook's myriad options for tweaking the background and text colors, it does hew pretty closely to the Kindle app's fine offering: You can adjust a brightness slider, and you can enable a "nighttime reading mode" which swaps the background and foreground colors, so that you're reading white text on a black background. I found that using the nighttime mode with the brightness slider at its dimmest setting suited me just fine. Oddly, unlike almost all of its competitors, Kobo doesn't offer a sepia-tinged reading mode. I prefer sepia to a bright white page background, because I find it's far less abrasive on my eyes.
Also unlike most of its competitors, Kobo doesn't offer virtual page numbers. Instead, the app shows you the number of pages remaining in your current chapter. I appreciate that feature in iBooks and here in Kobo too, since it's far more annoying to flip ahead a few pages to see where the chapter ends when you're reading an e-book. Unfortunately, in Kobo, the pages-remaining feature comes at a price: Whenever you reach a new chapter, the app locks for a moment as it calculates that chapter's length with your current font settings. The process rarely takes more than a second or two, but it's always noticeable. I never experience such loading screens in Kindle or iBooks on the iPad.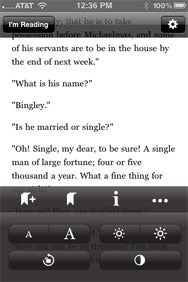 By default, Kobo uses a fade-to transition between pages—that is, when you swipe to turn the page, the current page fades out as the new one fades in. I found the animation jarring and entirely un-book-like. The app offers options for other page-turn animations—a flip, a curl, or no animation at all—but I don't love any of them. I settled on the flip, but it's a hair slow to turn pages for my taste. The curl, bizarrely, comes in the wrong direction: It seems to peel pages up from the bottom, like a legal pad. As I read a few books with Kobo, the slow page-turn animation grew less frustrating, but I continued to feel the lag whenever I turned the page.
In the iPad version of the app, you can select a theme for Kobo's virtual bookcase, and even the in-app bookmarks you use, with options like a tassel, a leather strip, or even a wiener dog.
Like Nook and Kindle, to purchase books with Kobo, the app exits and launches Safari. Navigating the bookstore is easy enough, but caveat emptor: I learned the hard way that, at least at this writing, Kobo is considered an international retailer: The $9 book I bought had a $2.60 fee added onto it by my credit card company.
As you'd expect, Kobo can sync your current page between the iPhone and iPad versions of the app, along with versions of the software for Macs and PCs, other smartphones, and the very Kindle-esque Kobo hardware device, which is available for pre-order at Borders stores in the United States.
As an added bonus, Kobo offers impressive integration with Dropbox (which I tested) and iDisk via Mobile Me (which I didn't). Drop an unencrypted PDF or ePub document into one of those cloud-storage services, and you can access it directly within the Kobo app to start reading.
Kobo doesn't yet support highlighting or note-taking within the app, though the developer promises that's coming soon.
I don't know that the world needs yet another e-book competitor, but that's not my call. If Kindle, iBooks, Nook, and the rest haven't yet sated your unique e-reading hunger, Kobo's certainly worth a shot; generally speaking, it works fine. But unless the developer can address the app's occasional slowness—when changing chapters and when turning pages—Kobo will remain my last e-reading choice on the iPad and iPhone.
[ Lex Friedman is a frequent contributor to Macworld.]