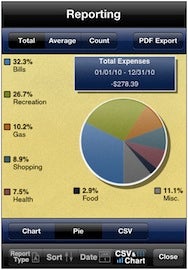 If you're looking for a personal finance app for the iPhone, you might give PaperFinance 2 a whirl. IdealSky Software has announced that the latest version, which offers a budget manager, an improved user interface, support for iOS 4, and eye candy like pie charts.
There's no shortage of finance apps out there, and PaperFinance tries to distinguish itself with its simplicity and its "fun" swiping interface. Like many finance apps, this one lets you set up various accounts; you can then track those accounts and add transactions and categories. The reporting feature offers bar graphs and pie charts; you can also export your data in CSV format or as PDFs. Version 2 also offers some bug fixes and faster performance. You can now backup your finances by e-mailing yourself the data file.
If your financial tracking needs are relatively straightforward, PaperFinance may serve your needs well. It requires iOS 3.1 or later, and it's available now in the App Store for $3. The company says they'll have a free, "lite" version available in the near future.