Clink Apps on Thursday released The Weather 2, a major upgrade to its iPhone and iPad app that brings a significantly redesigned interface, iOS 4 and iPhone 4 support, background updating, and new customizability.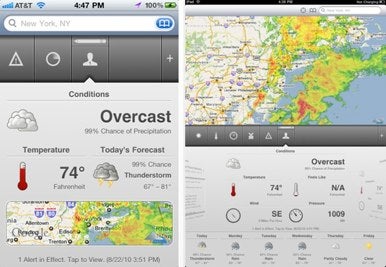 The Weather 2 displays the typical data you'd probably expect from a weather app, though its new interface brings an emphasis on clarity and flexibility, allowing you to see just the data that's important to you. A new icon toolbar lets you swap between pages of specific data like the week's forecast, the area's radar, or the current temperature.
You can also add new pages to The Weather 2 and customize them with widgets for ten types of data, such as air pressure, visibility, humidity, a "feels like" rating (if one is available for your area), wind speed, forecast, and more. These features work generally the same way between the iPhone and iPad versions, with just basic differences to take better advantage of the iPad's screen real estate. For example, the iPad version has a static multi-day forecast bar along the bottom of the page area, and a static radar display at the top.
Speaking of the radar, it's been improved in The Weather 2, as Clink Apps boasts tighter use of data from the Weather Underground service. You can also expand the map to take up almost the entire display, giving you more room to view radar data or turn on the Webcam view if cameras are available in your area.
New support for multitasking in iOS 4 and high-resolution graphics for the iPhone 4's Retina display also make The Weather 2 a good citizen on Apple's latest OS and phone. Harnessing iOS 4's new background location features, The Weather 2 can actively track your location in the background and update its weather data accordingly. For those concerned about battery life or who simply don't want constant weather updates, don't worry: the feature isn't enabled by default and can be easily shut off.
I found The Weather around two months ago after getting dissatisfied with most of the weather offerings in the App Store. Most of them display the same data, but almost every app suffers from an unhealthy obsession with the color blue and generally poor interface design. I really liked The Weather's fresh deviation from the norm, and after some brief tinkering, I like the new version even more.
The Weather 2 is available now for $1 in the App Store, and it's a universal app for iPhone and iPad. It requires iOS 3.0 or later.