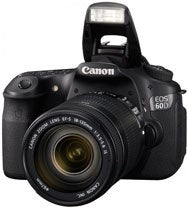 Canon has upgraded its popular EOS 50D DSLR to create the EOS 60D, which the company says offers high performance, a series of creative features, a Vari-angle LCD screen and enhanced ergonomics.
With an 18-megapixel APS-C sensor, the EOS 60D offers high levels of detail and a magnification of 1.6x the focal length of the lens to capture poster-size images in a variety of aspect ratios. The DIGIC 4 processing engine rapidly works with image information captured from the CMOS sensor's four-channel output, which Canon says provide outstanding color reproduction, as well as high-speed shooting at 5.3fps in bursts of 58 full-resolution JPEGs.
A standard ISO range of 100-6400 is extendable to 12800, providing smooth images with minimal noise in low light conditions. A 9-point, all cross-type autofocus (AF) system also provides swift and accurate focusing, with an extra-sensitive center point for lenses faster than f/2.8, allowing photographers to artistically employ a shallow depth of field during portraiture or for more atmospheric shooting.
The EOS 60D features Canon's iFCL metering system, first introduced with the EOS 7D, with a 63-zone Dual-Layer sensor. Information on subject location is gathered from the Auto Focus system, and is combined with color and luminance readings for consistent accurate exposures whatever the situation. The Integrated Speedlite transmitter also provides in-camera control of multiple EX flash units for more creative lighting.
A new three-inch LCD monitor can be popped out and rotated to view from a wide range of angles. Portrait, Landscape, Close-Up, Sport, Night Snapshot or Creative AUTO modes are all available. Different effects can be achieved by shooting with Basic+ enhancements such as Daylight, Cloudy or Sunset or pre-set Picture Styles including Vivid, Soft, Warm or Monochrome. The DIGIC 4 processor supports in-camera raw image processing, allowing photographers to edit settings such as brightness, contrast, white balance or correct distortion or chromatic aberration. The edited image can then be resaved as a JPEG, ready to be printed or uploaded to a computer or the Web.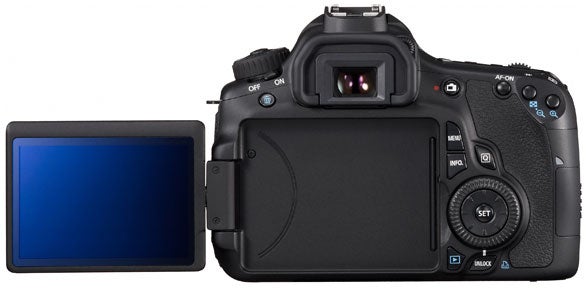 The EOS 60D captures 1920x1080p HD video with a variety of user-selectable frame rates, including 30, 25 and 24fps, as well as 720p video at 60 and 50fps. Full manual control in Movie mode allows photographers to employ their own exposure and focus settings and take advantage of the effects achieved from Canon's wide range of EF lenses. An external stereo microphone terminal and the ability to adjust sound recording level ensures the audio track recorded matches the visual quality of the video, capturing broadcast-quality sound.
The EOS 60D features a completely redesigned body, combining an ergonomically enhanced, curved shape with a new button layout to make it quick and comfortable for photographers to change settings. Frequently used camera controls are grouped together for easy access, while the Quick Control Dial, Multi-controller and SET button have all been merged into one multi-control dial, enabling photographers to operate menus and enter settings quickly using their thumb. The mode dial also features a lock button, preventing unintentional changes to settings mid-shoot.
A dedicated Quick Control access button allows photographers to instantly reach the most common shooting settings and playback controls. Customizing the functions of a number of buttons is also possible, allowing photographers to tailor the camera to suit their individual needs. To help achieve landscapes with perfectly level horizons, a horizontal Electronic Level can be displayed in the viewfinder or in Live View to assist composition and remove any potential need for post-production correction.
The EOS 60D will be avilable at the end of September. It will be packaged with an 18-135mm lens for $1,400, or sold body only for $1100.