Assault Squadron is an old school shooter harkening back to the golden age of arcade gaming. Developed by Chillingo, this vertical-scrolling action game has great graphics, intense gameplay, and just the right amount of explosions.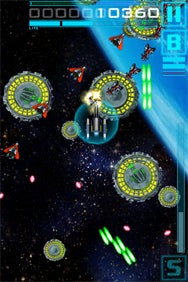 But first, some context: Back in the 80s and 90s, you'd often see kids feeding dozens of quarters to play frenetic, vertically-scrolling shooters, in which the player's lone, hyper-powered air/spacecraft blasts away at an innumerable host of easily destructible enemies, or a single, menacing, garguantuan boss-ship. Typically, as the difficulty progressed, the sheer volume of glowing projectiles raining down would inevitably eat away at your finite continues and quarters. Thus these games, like Batsugan, 1941: Counter Attack, and the ubiquitous Raiden, would come be informally dubbed as "bullet hell" shooters.
From Chillingo comes the latest, manic iteration of this concept: Assault Squadron, a top- and side-scrolling, "explosive and fast-moving, sci-fi shoot 'em up." To its credit, whereas titles such as Batsugan and the ostensibly-Japanese Perfect Cherry Blossom were little more than bouts of ultraviolet seizure-candy, Assault Squadron departs from the color-orgy muscle flexing to deliver a legitimately epic gaming experience.
Since Raiden, little has changed about the shoot 'em up gameplay style: jerky aliens have blown up parts of Earth, and we have to return the favor with extreme prejudice. However, with Assault Squadron's six-part "Campaign Mode", this familiar plot is fleshed out and well-bookended with gorgeous cutscenes—all full of stuff blowing up. With the slick, intuitive UI, the player may choose any one of four spaceships (two from the start and two unlockable), each with distinct weaponry, handling and combat strategies. There are three difficulty sessions, for casual, normal, and expert players. It's recommended to test out any one of the four control schemes ("Touch 1.1", "Touch 1.4", "Tilt Control", and "Virtual Joystick"), although I personally found the "Touch" controls inherently frustrating, as my delicate, bird-like fingers were too fat to make the precision movements necessary to avoid fiery, shameful death.
In a genre dominated by ever-busier iterations of the same tiresome, frustrating nonsense, Assault Squadron raises the bar in every category: challenging (it is so very hard), gameplay, competent writing, customizable ships and combat, an integrated online leaderboard feature, even an appropriately oppressive trance soundtrack, all of which create a fun factor that screams "must have."
The Takeaway: Great gameplay, epic combat, lots of fun.
[Folahan Olowoyeye is a frequent contributor to Macworld.]