The zombies have taken over your trailer park. Now, only you can save your sweetheart in this third-person shooter. Tucker Ray in: Rednecks vs. Zombies, from developer Frozen Giant, provides some variety to the zombie-themed survival-horror genre by offering a white trash superhero in a post-apocalyptic trailer park. Your weapons, which include traditional firearms and more unconventional backwoods weaponry, allow you to dispatch the green hulking monstrosities with extreme prejudice (and some humor).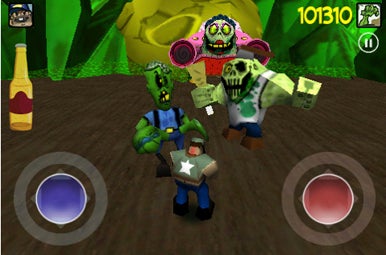 Tucker Ray, redneck extraordinaire, arrives home from the farm one day to find that a mysterious meteor attack has destroyed his home. The park is now under siege from mutant zombies, but more importantly, he has no idea whether his beloved Bobby Sue is alive or dead.
So Tucker picks up his shotgun, "Sawed-Off Suzie," and goes looking for her, popping off hoards of mutants on the way. You work your way through the cartoonish trailer park to a strumming bluegrass soundtrack, punctuated with standard zombie grunts and groans warning of attack. Though the graphics aren't lifelike, they are crisp, brightly colored, and bring to mind an animated Nickelodeon show circa 1995.
The gameplay is delightfully simple, which is welcome given that Rednecks vs. Zombies uses dual-stick controls, an almost universally difficult control scheme. The left stick controls forward movement, the right controls direction and fires your gun when tapped.
The right stick is particularly sensitive, so it's best to flick it with your thumb in the direction you wish to shoot. Simple tapping does work, though I often found a direct tap would turn me directly around and therefore expose my back to the zombies. I found the thumb flicking needs to be subtle and controlled, otherwise you end up repeatedly activating the nearby pause button mid-battle.
With the controls and shooting technique mastered, your only other objective is to collect all of the bottle caps, beef jerky, and miscellaneous weapons — such as the squirrel canon – you can get your hands on. Move through the levels, find Bobby Sue, and live happily ever after.
Progress is saved at various port-a-potties scattered throughout, so short bursts of play are possible with only minor loss of headway. Open Feint software provides online leaderboards and social networking, though there aren't multiple gameplay modes.
Simply put, Tucker Ray in: Rednecks vs. Zombies is a fun and silly shooter game unlike anything else in the App Store. The $1 price tag is just gravy.
[Meghann Myers is a frequent contributor to Macworld.]