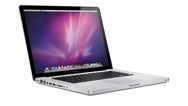 Folks who purchased a fancy new Core i5 or i7 MacBook Pro any time since the models were introduced in April can fire up Software Update and snag the EFI Firmware update Apple released on Thursday.
MacBook Pro EFI Firmware Update 1.9, recommended for all users of the specified models, contains a few fixes for the portable computers, most prominently the squashing of a rare issue that could cause the latest Core i5 and i7 MacBook Pros to freeze during startup or intermittently stall while running.
Apple says the update also improves compatibility with external displays, which likely includes solutions to problems such as one where the 17-inch MacBook Pro would stop recognizing a display when the machine was put to sleep.
The MacBook Pro EFI Firmware Update 1.9 is 2.16MB and should be waiting in Software Update on relevant MacBook Pro models. Installing it will require the machine to be plugged into its power source, as well as a restart.
Apple MacBook Pro MC372LL/A Notebook
Apple MacBook Pro MC373LL/A Notebook