To determine whether or not the Office2 word processing and spreadsheet apps from Byte2 are a good fit for you, it's important to understand your needs and Office2's limitations. While Office2 for the iPhone and the iPad-only Office2 HD offer up some great features as well as excellent options for linking to your favorite cloud-based storage service, they do not have the document formatting and page layout capabilities that you'll find in apps like the iPad versions of Apple's iWork apps nor do they have the kind of compatibility with Microsoft Office that you'd hope for in an application that is designed to act as stand-in for Office on your iOS device.
For this review, I looked at both Office2 (as in "Office Squared") on the iPhone and Office2 HD on the iPad. The apps are essentially similar—the iPad version takes better advantage of that device's larger screen, of course—so any comment I make about Office2 applies to both versions, unless otherwise specified.
Office2 offers a number of features you'll find in most word processing applications. Most notably, Office2 offers you full-screen text editing in both portrait and landscape mode without limiting your access to the app's formatting toolbar. The toolbar, which includes options for text and paragraph formatting as well as tools for viewing document statistics and adding images and tables, slides from left to right to reveal all the app's available options, so it does not interfere with your work area.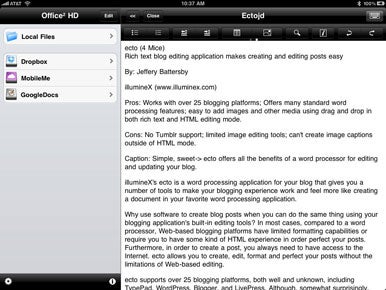 Unlike the iPad version of Pages, Office2 offers no support for document styles or keyboard shortcuts such as Command-I or Command-B, and its support for images is basic at best, only allowing you to crop and insert inline images into your documents. Office2 also offers no support for Office's change tracking features but does offer a full text search.
As a spreadsheet application, Office2 is subject to many of the same limitations as Numbers on the iPad. Office2 provides more than 130 functions for you to use to manipulate data and text. But, as with Numbers, if the spreadsheets you're working with contain scripts or lookups of data in secondary Excel spreadsheets, the app is not going to be too useful. Also, when using Office2's spreadsheet, you'll find that it doesn't provide the same intelligent data entry features that Numbers has. For example, while Numbers' onscreen keyboard defaults to a number pad when you're entering data, Office2 offers up the iOS's standard QWERTY number keyboard. So your overall experience with the spreadsheet app can tend toward the frustrating. I was also surprised to find that Office2 was unable to edit Microsoft's .docx and .xlsx formats. The app could view these documents, but I couldn't find a way to save or edit those docs.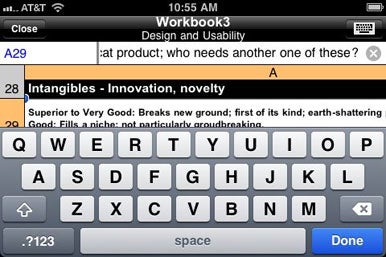 The iPhone version of the Office2 app leaves a bit to be desired, not because it's a poor application but because the iPhone is so small. Using the word processor on the phone is considerably tighter than typing on the iPad, but it's a workable solution when quick edits are called for. Tweaking a spreadsheet in Office 2 is just short of impossible. The screen is simply too small to perform anything but the most rudimentary tasks. Using a spreadsheet with standard cell sizes I was never able to work with anything larger than a 3×5 grid, and for most of the spreadsheets I do any kind of real work in, I was typically only able to see and use a much smaller area. So overall, I'd characterize my Office2 iPhone experience as serviceable in a pinch, but nothing I'd want to use on a regular basis.
What makes Office2 an intriguing standout among its competitors is its support for a wide variety of cloud-based storage services. Using Office2, you can access your documents no matter where you're storing them, whether that's Dropbox, MobileMe, Google Docs, or virtually any other WebDAV-based file server. This unlimited access gives Office2 a versatility that is unmatched by iWork, making it possible for you to use Office2 in the real world with your work documents and without requiring you to step through the kinds of iTunes file syncing hoops that iWork does.
Office2 is a good word processing and spreadsheet application that offers significant value because of its link to cloud-based storage services. While iWork may offer nicer-looking and more capable editing and formatting options, the fact that you can use Office2 to easily access your work documents make it a practical and powerful tool for getting real work done.
[Jeffery Battersby is an IT Consultant, (very) smalltime actor, and regular contributor to Macworld. He writes about Macs and more at his blog.]