As a Bay Area native, I'm willing to cut a lot of slack for musicians who croon about the overall awesomeness of girls from California. Tapulous' new Katy Perry Revenge app, however, toes the line of how much Katy I can handle. If you're handing over $4.99 for this game, I caution you: make sure you really like Katy Perry. Upon downloading the app, you will hold in your hand the complete Katy experience.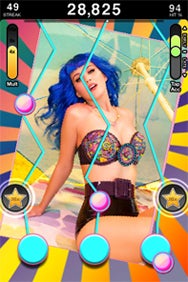 Like its cousins Tap Tap Revenge and Justin Bieber Revenge, Katy Perry Revenge is a solid game. Tapulous does a fantastic job of providing a variety of levels within the app, ensuring that players at all levels of skill can enjoy tapping their fingers in time to the music. Each of the difficulty levels (Easy, Medium, Hard, Extreme) gives players their choice of the ten songs to play to. The song list is a good selection, featuring most of the hit pop singles, as well as a few lesser-known ballads.
One aspect of Katy Perry Revenge that I had mixed feelings about was the backdrop for each of the songs. Some were classic, Guitar Hero-inspired themes with neon lights that shoot towards the target in a straight line, while others twisted around coils of candy-cane colored snakes (both, of course, exhibit the obligatory Katy Perry bikini top photos in the background). The latter seemed to throw off my timing and my scores suffered. Overall, the graphics in the game are well done but very, very bright.
The overall atmosphere of the game is, well, pink. If you like pink, sparkly bubbles, the Katy Perry Revenge app is definitely for you. While each song in the game has a separate background, all of the menu screens are set in a cotton candy-filled heaven wherein Katy Perry photos float by in bubbles à la Glinda the Good Witch (that is, if Glinda the Good Witch was wearing whipped cream canisters mounted on her brassiere).
For a die-hard Katy Perry fan, there is surely no better iPhone application. For the rest of us, know that Katy Perry Revenge is packed with glitter and songs that will replay in your head for days to come. But mainly, lots of glitter.
[Stephanie Kent is an editorial intern for Macworld.]