The Magic Labyrinth by Kiddinx for the iPhone and iPod Touch is based on the popular German board game by the same name. This iPhone/iPod Touch port features beautiful artwork along with a challenge to tease your brain—you must work your way through the labyrinth and collect symbols, but there's a catch: the walls are invisible.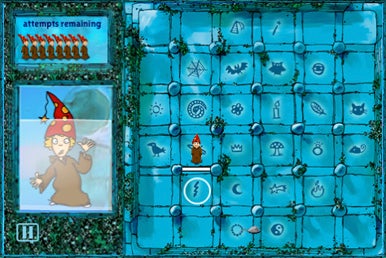 The game is pretty simple—all you have to do is walk around a grid and collect symbols (the symbols are already on the grid; a white circle appears around your "goal" symbol). However, there are walls—it is a labyrinth, after all—and those walls are invisible. Each time you run into a wall, you are sent back to the beginning of the maze and you must make your way back to the "goal" symbol. The walls don't change, of course, they're just invisible—so it's a challenge to remember where they are.
There are two modes in the Magic Labyrinth: "Watch out!" mode and "Hurry up!" mode. In "Watch out!" mode, you have ten lives, and you lose one each time you walk into a wall. In "Hurry up!" mode, you have to collect as many symbols as you can in four minutes. Each mode has an "easy," "medium," and "hard" level, as well as the option of mice (mice make the game harder, as they crawl around the maze and bump into you, causing you to lose a life).
The Magic Labyrinth may be simple, but it's addictive. It helps that the artwork—especially the introduction—has a "hand-drawn" air to it and is really gorgeous. Kids and adults alike will enjoy this game, as it's a fun brain challenge.
[Sarah Jacobsson is a frequent contributor to Macworld.]